BRICS Summit: President Ramaphosa Says Expansion Will Dominate Talks For 'Balanced Global Order'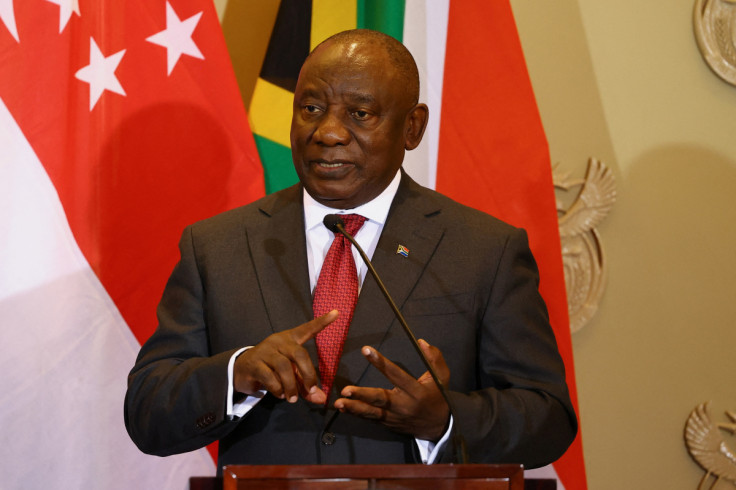 The upcoming BRICS Summit is going to be dominated by discussions of expansion, South Africa's President Cyril Ramaphosa said Sunday.
"The United Nations Security Council must be transformed into a more inclusive, more effective body that is able to ensure peace and security," President Ramaphosa said on Sunday, WION News reported.
BRICS currently comprises five emerging economies--Brazil, Russia, India, China, and South Africa.
Ramaphosa went on to note that more than 30 Heads of State and Government from across Africa will be attending the summit, which will be held from Aug. 22-24. The president added more than 20 countries have formally applied to be a member of BRICS.
"The value of BRICS extends beyond the interests of its current members. For its efforts to be more effective, BRICS needs to build partnerships with other countries that share its aspirations and perspectives," the president said, SA News reported.
Ramaphosa talked about how BRICS played an important role on a global level due to its market potential, economic power, development cooperation, and political influence, while adding that the member countries were capable enough to "collectively shape global dynamics."
Together, BRICS countries have the "potential to drive significant changes in the world economy and international relations," Ramaphosa said.
An expanded group will ensure a "diverse group of nations with different political systems that share a common desire to have a more balanced global order," he added.
Ramaphosa also explained how South Africa received positive opportunities after being a member of BRICS as the country could have a strategic relationship with China. South Africa and China will be signing several agreements during President Xi Jinping's state visit.
He added that South Africa has "steadily strengthened trade and investment ties with other BRICS countries alongside collaboration in areas like development, skills, technology, security, and innovation."
Ramaphosa also mentioned the benefits South Africa received from the New Development Bank-- established by the BRICS countries in 2015--which included funds for several infrastructure projects valued at R100 billion.
The South African president further shared that he wanted to build a partnership between BRICS and Africa in order to unlock more opportunities for trade, investment, and infrastructure development.
"There are great opportunities for other BRICS countries to participate in the African Continental Free Trade Area by locating production and services in various countries on the African continent, including our own, by partnering with local companies and entrepreneurs," he added.
BRICS was founded in June 2009 while South Africa became a part of the group in 2010.
© Copyright 2023 IBTimes ZA. All rights reserved.