BRICS National Security Advisors Discuss Global Challenges In Johannesburg Meet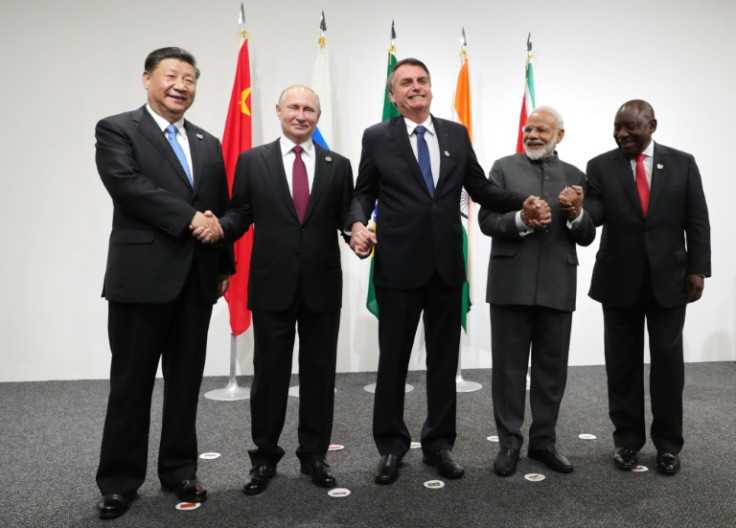 The Friends of BRICS National Security Advisors' (NSA) Meeting with BRICS Security counterparts discussed global challenges including counter-terrorism, transnational crimes and cybersecurity in Johannesburg on Monday.
Khumbudzo Ntshavheni, who serves as Minister in the Presidency of South Africa, hosted the high-level meeting to discuss several important issues such as national security and global challenges.
The friends of BRICS countries include Belarus, Burundi, Cuba, Egypt, Kazakhstan, Saudi Arabia and the United Arab Emirates.
Some of these countries have already expressed their interest to become a member of the BRICS, which currently consists of five emerging economies - Brazil, Russia, India, China and South Africa.
"There are also challenges that are persistent and affect all of us as a global family. We must reinforce the way we do things through both the BRICS and the multilateral system of the United Nations, as we deal with challenges such as counter-terrorism, transnational crimes and cybersecurity," Minister Ntshavheni said during the meeting, SA News reported.
The minister further shared that she is hopeful this meeting will generate an enduring partnership and commitment among countries that will eventually result in better global development, strengthened global resilience, and global peace.
She called this a "historic meeting" as all countries participating are meeting each other physically after three years due COVID-19 pandemic.
"This is a time for us to seek resilience and extend friendship to our people, and it is for that reason that South Africa deemed it fit to invite the Friends of BRICS to join us so that we can converge as a family and chart a way forward together for global resilience and global peace and for mutual development and innovation," she added.
Minister Ntshavheni concluded by saying that her goal is to provide similar opportunities to African kids that children get in China, India, Brazil and Russia alongside other countries.
Last week, Ambassador at Large for Asia and BRICS Anil Sooklal noted that more than 40 countries are willing to join the BRICS group, revealing that 22 countries have already formally applied for the same.
The ruling party of South Africa, African National Congress (ANC)'s treasurer-general, Gwen Ramokgopa also emphasized the importance of BRICS and said, it currently represents over 42% of the global population, 30% of the world territory, and over 30% of the GDP.
The 15th BRICS summit will take place in South Africa's Durban next month. The event became a global issue after ICC issued an arrest warrant against the President of Russia, Vladimir Putin, on March 18 and was expecting South Africa to arrest him.
However, it was disclosed last week that President Putin will be attending the event virtually.
© Copyright 2023 IBTimes ZA. All rights reserved.