President Ramaphosa Hosts South Sudan Counterpart Salva Kiir In Pretoria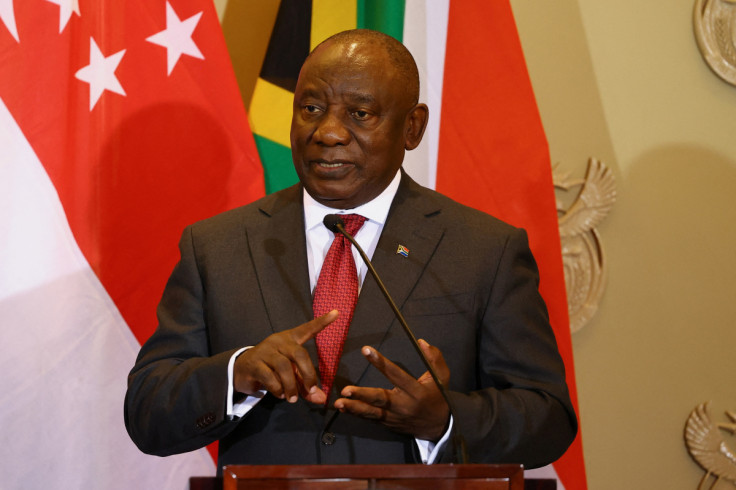 President Cyril Ramaphosa hosted his South Sudan counterpart, Salva Kiir Mayardit on Wednesday in Pretoria, where the two leaders discussed "regional matters of concern" alongside ongoing conflict in South Sudan's neighboring country, Sudan.
Presidential spokesperson, Vincent Magwenya shared that the two Heads of State will discuss "progress on the implementation of the Revitalised Agreement of the Resolution of the Conflict in the Republic of South Sudan (R-ARCSS), and the ongoing conflict in the Republic of Sudan," SA News reported.
Magwenya also shared that there won't be any media coverage of their conversation.
However, the official Twitter handle of the South African Government news agency shared a photo of both presidents shaking hands as they met in Pretoria, the capital of South Africa.
South Sudan government's official Twitter handle also shared a photo of both leaders together in South Africa and wrote, "The two leaders discussed bilateral relations between the two countries. The meeting also touched on the crisis in Sudan and regional matters of concern."
South Sudan conflict, began just two years after the country gained independence in 2011 from Sudan. President Mayardit and Vice President of South Sudan (at that time), Riek Machar had a power struggle, which resulted in a civil war.
Almost 400,000 people died and millions of people were displaced due to this war. However, the fight was stopped temporarily after the Agreement on the Resolution of the Conflict in the Republic of South Sudan (ARCSS) was signed.
Although the fight reignited within a couple of months. Once again, there were efforts to stop the war and it eventually resulted in the Revitalised Agreement on the Resolution of the Conflict in the Republic of South Sudan (R-ARCSS), which was finalized in 2018.
Both leaders also discussed the ongoing crisis in neighboring Sudan. The country made headlines in April when the Sudanese Army and Rapid Support Forces (RSF) began fighting on the streets and it resulted in the death of more than 512 people and injured thousands of people within two weeks.
At that time, 51 South Africans were trapped in Sudan. The South African government spoke with the Egypt government to evacuate those trapped South Africans via Cairo and Safaga port. South Africa rescued all trapped citizens successfully.
Aside from meeting President Mayardit, Ramaphosa will be participating in the 8th Southern Africa Customs Union (SACU) Heads of State and Government Summit in the Kingdom of Eswatini on Thursday.
Whereas, on Friday, he will engage with communities in all provinces by leading the 7th installment of the District Development Model (DDM) Presidential Imbizo in uThukela District, KwaZulu-Natal. President Ramaphosa will also meet the President of the Democratic Republic of the Congo next week.
© Copyright 2023 IBTimes ZA. All rights reserved.