President Ramaphosa Arrives In St. Petersburg To Attend Second Russia-Africa Summit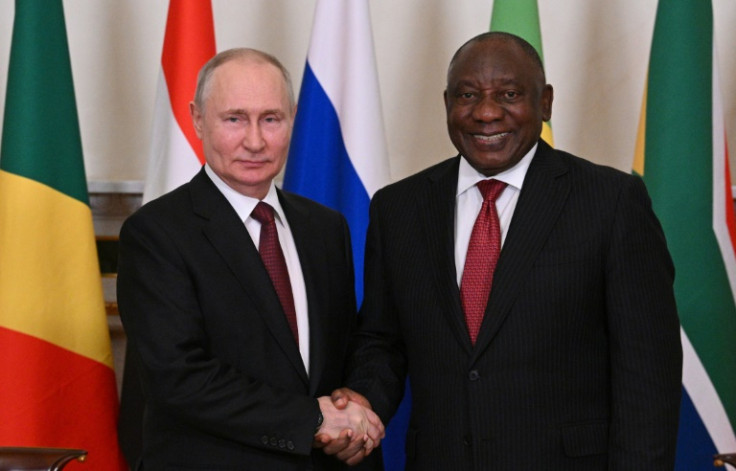 President Cyril Ramaphosa arrived in Russia to attend the Second Russia-Africa Summit that will be held on Thursday and Friday in St. Petersburg.
President Ramaphosa is accompanied by Minister of International Relations and Cooperation, Naledi Pandor and Minister in the Presidency, Khumbudzo Ntshavheni.
The summit focuses on mutually beneficial cooperation and partnerships between Russia and African countries including South Africa.
The official Twitter handle of the Department of International Relations and Cooperation (DIRCO) shared a video, where the South Africa President can be seen getting out of his plane and meeting Russian officials.
In a separate tweet, DIRCO's handle mentioned that President Ramaphosa was received by Minister Pandor and South Africa's Ambassador to the Russian Federation and Republic of Belarus, Mzuvukile Maqetuka upon his arrival at Pulkovo International Airport.
Ahead of the summit, Minister Pandor explained that there is a "range of aspects that will form part of our deliberations here". Several areas in which Russia and South Africa collaborate including digital innovation, and collaboration in space science, alongside strengthening people-to-people exchange will be discussed, Pandor added.
"We've also added a much stronger focus on matters of trade. All of these will be part of the subjects that we will discuss during this second summit," she said on Wednesday, SANews reported.
Minister Pandor noted that this is the first time when just the heads of states are not attending the summit but also many enterprises from various African countries and the Continental Development Finance institutions will attend the event.
"Interestingly, we also have the brand new president of the New Development Bank or the BRICS Bank, as it is sometimes called. This will be President Dilma Rousseff's first detailed interaction with African leaders, particularly the BRICS leaders," she added.
The minister addressed the Russia and Ukraine conflict, noting that South Africa and other African countries will encourage negotiations to begin between the two nations in order to end the conflict and bring peace and stability.
"And thus, allow for economic growth and development which are urgently necessary for many countries in the world, but most particularly for us in the developing world," she concluded.
The Presidency issued a statement on Wednesday, ahead of President Ramaphosa's arrival in Russia, and shared that the second Summit is expected to consider four declarations and a three-year Action Plan.
The first Russia-Africa Summit was held in 2019 in Sochi, Russia. The event was co-hosted by President Putin and President of Egypt, Abdel Fattah El-Sisi.
At that time, Putin noted that many Western countries are creating pressure, intimidating and blackmailing African countries in return for providing help. Russia, on the other hand, is ready to offer help without "political or other conditions," MoscowTimes reported.
© Copyright 2023 IBTimes ZA. All rights reserved.