Russian Central Bank Hikes Key Rate After Ruble Falters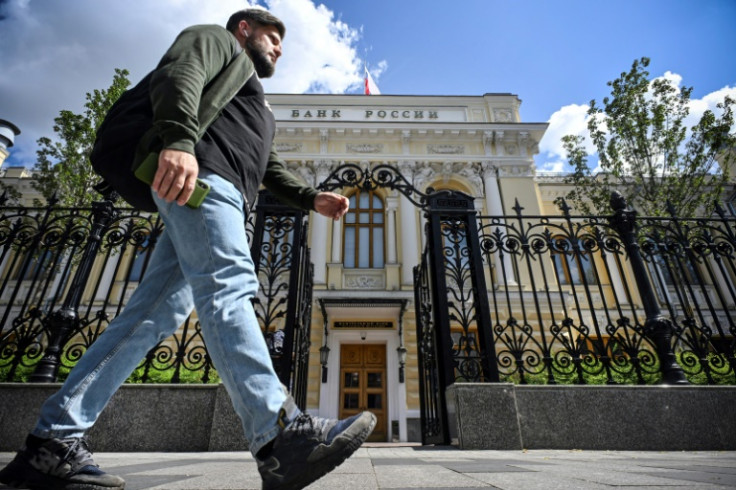 Russia's central bank on Tuesday hiked its key interest rate from 8.5 to 12 percent, after the ruble crashed to a more than 16-month low against the dollar.
"This decision was taken in order to limit the risks to price stability," the central bank said, after convening for an extraordinary meeting earlier in the day.
It warned that inflationary pressure was still rising, and said the bank risked missing its inflation target in 2024 if prices continued to increase at their current rate.
"The Bank of Russia will make further decisions on the key rate, taking into account the actual and expected inflation dynamics relative to the target," it said.
The bank is next scheduled to consider its key rate on September 15.
The ruble has shed around 30 percent of its value against the dollar since the start of the year, as Moscow grapples with falling export revenues, rising imports and higher military spending.
Inflation has also remained stubbornly high, despite the bank tightening monetary policy, with consumer prices rising 4.3 percent year-on-year in July.
Data from the Moscow Exchange showed the ruble weakening against the dollar after the rate decision, slipping to 96.83 at 10:48 local time (0748 GMT).
On Monday the currency fell to over 100 rubles to the dollar, as one Kremlin aide publicly criticised "loose monetary policy" in an op-ed published in state media.
The decline in the ruble and creeping inflation has prompted fears ordinary Russians' standard of living could take a hit.
© Copyright AFP 2023. All rights reserved.