IMF's Georgieva Says 44 Countries Interested In New Resilience Trust Loans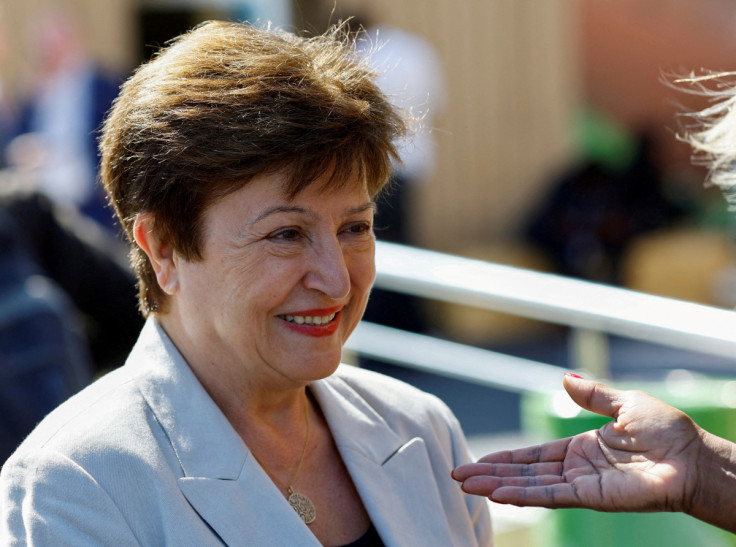 International Monetary Fund (IMF) Managing Director Kristalina Georgieva said on Monday that 44 countries have expressed interest in borrowing from its $40 billion Resilience and Sustainability Trust after an initial five had arranged loans.
The facility was created last year to help channel excess IMF Special Drawing Rights reserves from wealthier countries to poor and vulnerable middle-income countries to provide long-term concessional financing for needs such as climate change adaptation and transitioning to cleaner energy sources.
Georgieva told a Bretton Woods Committee event at the start of IMF and World Bank spring meeting week that the "healthy queue" of countries was a sign that the resilience facility resources needed to be scaled up to much higher levels.
Georgieva said the facility's current resources of around $40 billion were "modest in size." Rwanda, Barbados, Costa Rica, Bangladesh and Jamaica have reached agreements for loan programs from the facility, which come with certain economic policy requirements such as meeting fiscal targets.
Her comments come as IMF and World Bank member countries will discuss this week ways to dramatically scale up climate-related lending and private sector investment to meet needs estimated in the trillions of dollars a year to meet emissions reduction targets.
"So $40 billion is not a solution on its own, but it is a contribution to a solution, if it helps remove barriers for massively scaling investment, especially private investment, in emerging markets and developing economies," Georgieva said.
© Copyright Thomson Reuters 2023. All rights reserved.