Gas Leak: President Ramaphosa Extends Condolences To Affected Families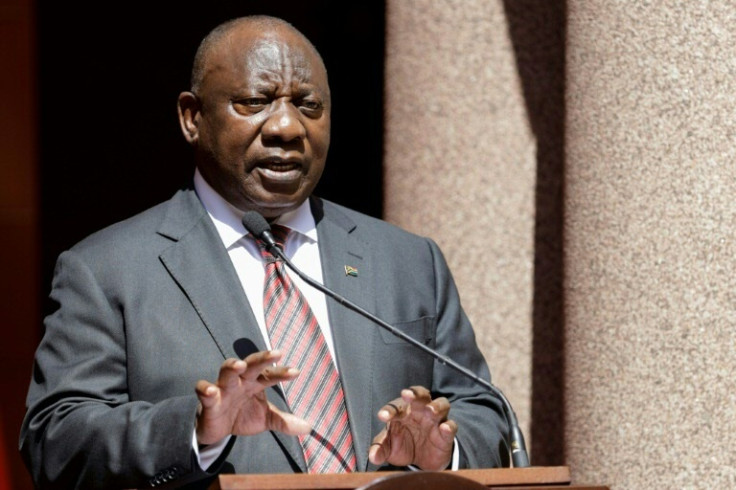 President Cyril Ramaphosa extended his condolences to the families of the victims of the gas leak incident in Boksburg. At least 17 people, including children, were killed in a gas cylinder leakage on the outskirts of Johannesburg on Wednesday evening.
The president acknowledged the devastating and tragic loss of innocent lives at the Angelo informal settlement in Boksburg, and extended his heartfelt condolences to the families that have lost loved ones, SANews reported.
Ramaphosa described Thursday morning as "sad" and urged the investigators to find the root cause of the leakage that killed 17 people including three kids. He also asked the investigators to make sure that such accidents are avoided in the future.
Sivuyile Ngodwana, Mayor of Ekurhuleni, pledged that the municipality will support the affected families.
"As the City of Ekurhuleni we would like to send our condolences to all the families of Angelo and all the families that have lost their loved ones," he said. "I know this is a difficult time that we are in and it's a very shocking tragedy."
Ngodwana added, "But we hope that God will be with all the people that have suffered a loss. With the community of Angelo and the city, we promise to give all the necessary support that they need."
Mayor Ngodwana paid a visit to the victims and families of the deceased alongside Gauteng Premier, Panyaza Lesufi and Police Commissioner Lieutenant-General Elias Mawela.
Following the visit, the police commissioner raised concern over the illegal activities that led to this accident, noting that residents in such areas should inform police if such activities are in their knowledge so that such tragedy can be prevented.
"The illegal activities happening here are no exception," he said, Scrolla Africa reported. "There are places like Jerusalem, west of Joburg, where similar illegal activities take place."
Talking about the gas leakage, the emergency services initially announced the death of 24 people. However, the police and Gauteng Province Premier confirmed that the death count is 16 on Thursday morning. Although later the count increased to 17.
These dead bodies included three kids aged one, six, and 15. A spokesman for the emergency services William Ntladi said the officials received a call about an explosion around 8:00 p.m. Wednesday but later it was found that there was a gas leak.
These gas cylinders were found in a shack, adding that this kind of gas is usually used for illegal mining. The gas leak was stopped later and the emergency services looked for more victims around a 100-yard radius of the cylinder.
The Gauteng Province Premier took to Twitter after the gas leak and shared a video of a room where this toxic nitrate gas was being kept by illegal miners to process gold.
Previously, Boksburg witnessed a gas tanker explosion in December last year that killed 10 people and injured more than 60 people.
© Copyright 2023 IBTimes ZA. All rights reserved.