Bus Accident In South Africa's Limpopo Kills 24 People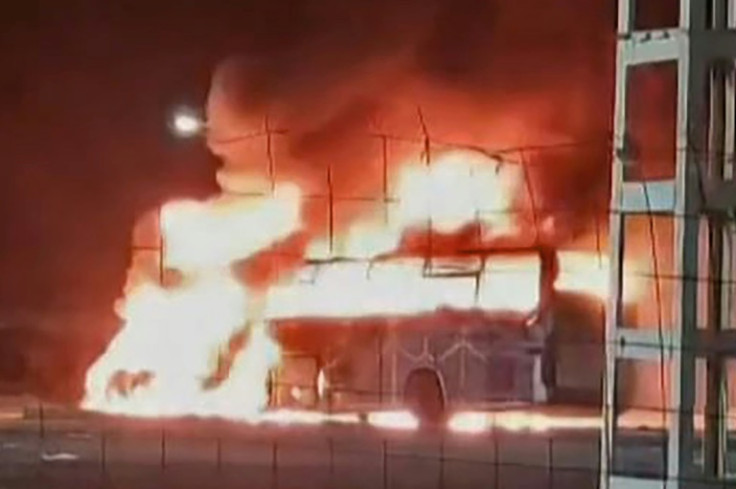 South Africa's Limpopo witnessed a horrible bus accident that took 24 lives on the scene as a bus to Venetia Mine collided with a truck.
Security service in South Africa, Arezwothe Protection Services (APS) disclosed on Sunday that the tragic bus accident happened between 5:00 p.m. to 6:00 p.m. when the bus full of mineworkers was on its way to Venetia Mine, a diamond mine-owned by De Beers.
The bus was between Niani, a village in Guinea, and Musina, a town in South Africa when the incident took place. APS posted a series of photographs on X, former Twitter, of the tragic accident and wrote, "24 people confirmed to have passed away on scene."
An X user shared a video of the burning bus, sharing that "allegedly" four people have survived the accident:
Another user shared a series of photos and a video of the scene:
Vongani Chauke, who serves as a spokesperson for the Department of Transport and Community Safety in Limpopo, shared that the bus accident happened when it was shuttling staff from the Venetia Diamond Mine.
"The bus came into collision with a lorry," he said, noting that the crash took place around 25 kilometers away from the mine near Musina, which is close to the Zimbabwe border. The reason behind the collision is yet to be disclosed.
The Venetia mine has been known to be South Africa's largest producer of diamonds since 1995. It produces over 40 percent of South Africa's diamonds every year and provides employment to more than 4,300 people.
South Africa has witnessed many road accidents in recent years causing thousands of lives on an annual basis. South Africa's Road Traffic Management Corporation (RTMC) disclosed earlier this year that 12,436 people were killed between January 2022 to December 2022 in road accidents.
According to the report, 5,347 people were pedestrians. However, the numbers showed a reduction last year as in 2021 there were 12,541 deaths due to road accidents. Since 2013, 126,546 people died on the road in South Africa.
"This is unacceptable and tragic, and while the RTMC notes that efforts have been made to improve the road safety environment, these are clearly not enough as our fatality rate only declines slightly year-on-year," the Automobile Association of South Africa said, Netwerk24 reported.
It added, "Much more focus should be placed on road safety, especially by the RTMC, than what is currently being done."
© Copyright 2023 IBTimes ZA. All rights reserved.