Zelensky Insists On Creation Of Special Court Over Russian Aggression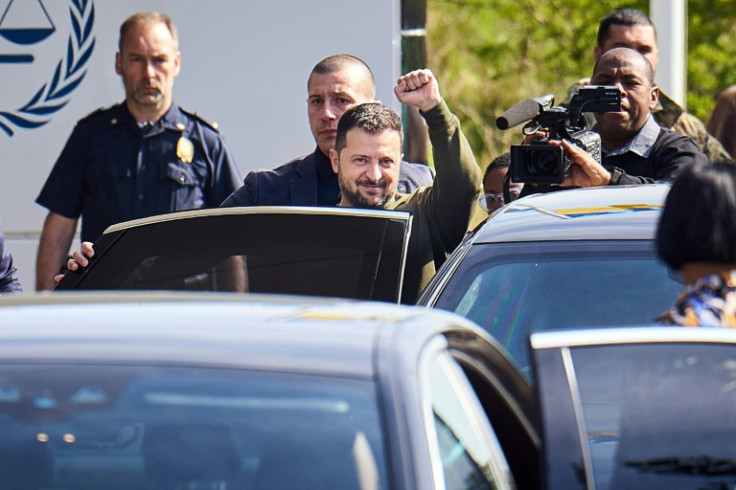 Ukrainian President Volodymyr Zelensky insisted Thursday that a special tribunal must be created to hold Russia to account for its "crime of aggression", while on a surprise visit to the Netherlands.
The Ukrainian leader is on a rare first visit to the lowlands country after meeting Nordic leaders a day before in Helsinki, and is drumming up military support ahead of Kyiv's offensive against Russia.
"There should be responsibility for this crime. And this can only be enforced by the tribunal," he told diplomats and officials after visiting the International Criminal Court, which has issued an arrest warrant for Russia's Vladimir Putin over a war crime charge.
Zelensky said: "Of course, we all want to see a different Vladimir here in The Hague. The one who deserves to be sentenced for his criminal actions right here in the capital of the international law."
"Only one Russian crime led to all of these crimes: this is the crime of aggression, the start of evil, the primary crime. There should be responsibility for this crime," he added in his speech.
"That's why we insist on the tribunal's creation," an idea Zelensky said was already being backed by 39 countries.
Kyiv is pressing for a special tribunal to be set up to prosecute Moscow for the crime of aggression because it sees this as a way to achieve faster justice and more easily target the Kremlin's top officials.
The ICC, based in The Hague, is currently probing possible war crimes and crimes against humanity committed during the war on Ukraine but it has no mandate to pursue the broader crime of aggression.
Some of Kyiv's Western backers have said it may be hard to get broad international backing for a one-off tribunal and say a more feasible approach could be to set up a "hybrid" court under Ukrainian law.
Zelensky however rejected the idea of a hybrid court.
"(Responsibility) can only be enforced by the tribunal of law which must work in the full to ensure justice, not hybrid promises, not hybrid impunity but full-scale justice," he said.
"Our clear-cut position is... and I expressed my opinion on this: we are going to work without any form of hybrid (court) altogether," Zelensky told reporters after meeting Dutch and Belgian Prime Ministers Mark Rutte and Alexander De Croo.
"This is a matter of principle for us," he said.
Russia has repeatedly denied any abuses by its forces, but the ICC wants to prosecute Putin for the unlawful deportation of Ukrainian children to Russia since Moscow's full-scale invasion last year in February.
Zelensky previously pushed NATO to invite Ukraine to join the alliance, but said Kyiv was "realistic" about not joining while it was still fighting a war against Russia.
"We are realistic, we know we will not be in NATO during the war," Zelensky told reporters.
"But we want a very clear message that we will be in NATO after the war," he said.
In the meantime, he urged the Netherlands and other countries to step up support to deliver military and other aid.
"There are a lot of challenges and difficulties on the battlefield," Zelensky said, saying "victory doesn't just depend on us."
"We need dear friends first of all because we fight for common values," Zelensky said.
The Netherlands has so far given or pledged 1.2 billion euros in military support to Ukraine, on top of other aid valued at 2.5 billion euros for 2023.
This includes tanks, howitzers and shells as well as two Patriot missile systems and stinger missiles among other weapons, the Dutch Defence Ministry said on its website.
Dutch PM Rutte added that "intensive work" was being done to reach consensus with partner countries to supply Ukraine with F-16 fighter jets "but it is sensitive subject".
De Croo in turn promised a new military aid package valued at some 200 million euros, taken from frozen Russian assets.
Zelensky was to visit a military base later on Thursday to view some equipment destined for Ukraine.
Dutch officials also confirmed Zelensky met King Willem-Alexander, who voiced his support for Ukraine shortly after Moscow's invasion.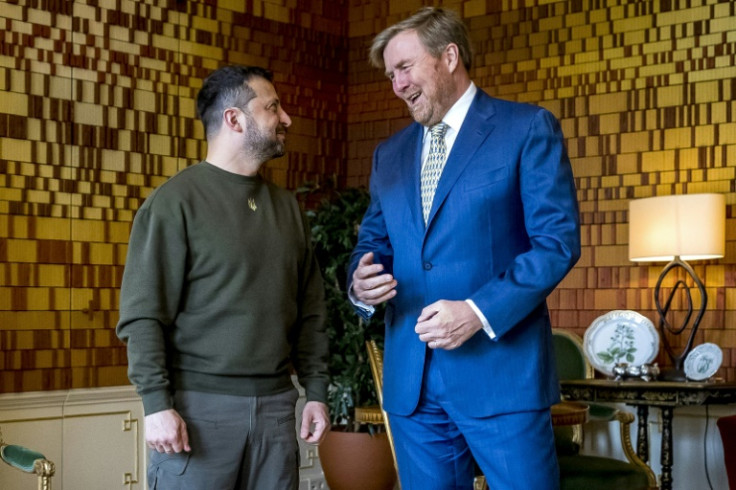 © Copyright AFP 2023. All rights reserved.