Zelensky Demands Faster Support On EU Chief's Symbolic Visit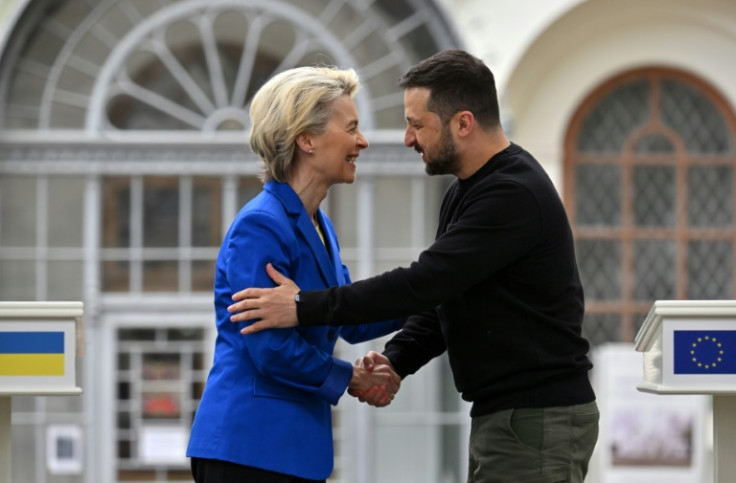 Ukraine warned Tuesday it needs more and faster support from the European Union, including a clear path to membership, as EU chief Ursula von der Leyen made a solidarity visit to Kyiv.
Von der Leyen was in town to mark Europe Day, which promotes peace and unity on the continent and falls on the same day that Kyiv's foe Moscow celebrates the Soviet victory over Nazi Germany in 1945.
Standing alongside the European Commission head, Ukrainian President Volodymyr Zelensky urged the EU to speed up ammunition deliveries, lift "unacceptable" restrictions on Ukrainian grain exports and begin talks on Ukraine's EU accession.
"The time has come to remove the artificial political uncertainty in the relations between Ukraine and the EU," Zelensky told a joint press conference.
"The time has come to take a positive decision on the opening of negotiations on Ukraine's accession to the EU," he added.
Von der Leyen is to brief EU member state leaders next month and hand them a report in October on Ukraine's progress in democratic and anti-corruption reform. At that point, members will have to decide whether to launch formal EU membership talks.
After the talks she would not say what her advice would be, but made it clear that she thinks Ukraine is deeply serious about pursuing its EU ambition.
"I come out from this visit more impressed than ever by the determination of the Ukrainians, despite the huge challenges they face. We must continue to support them," she told an AFP journalist acting as a pool reporter for the European Newsroom, a platform for news agencies.
Von der Leyen arrived in the Ukrainian capital for a series of what she called "intense" meetings on technical matters, even as Kyiv plans to launch a spring counteroffensive against Russian forces, more than a year into Moscow's invasion.
"Ukraine is fighting for the ideals of Europe that we celebrate today. In Russia, (President Vladimir) Putin and his regime have destroyed these values. And now they are attempting to destroy them here in Ukraine," von der Leyen said.
"But the aggressor has already dramatically failed. Ukraine has resisted the attack and is fighting back successfully," she added.
Zelensky thanked her for the EU decision to provide Ukraine with one million artillery shells but insisted on the need to deliver them more quickly.
"The need for them on the battlefield is already present," he said.
He then addressed restrictions on Ukrainian grain exports imposed by neighbouring EU nations -- a source of tension among the allies.
"All restrictions on our exports are completely unacceptable right now. They only reinforce the abilities of the aggressor," Zelensky said.
"We are waiting for the EU to stop all restrictions as fast as possible," he added, calling the measures "severe, even cruel" and "disappointing" in times of war.
The EU members involved -- Bulgaria, Hungary, Poland, Romania and Slovakia -- have sparred with Ukraine in recent weeks over the grain issue.
Russia's invasion severely limited the traditional export channel of Ukrainian grain via the Black Sea, necessitating export overland via Ukraine's neighbours.
Member states agreed to allow the import of certain products from Ukraine without quantitative restrictions, and without customs and official inspections.
But farmers in some of the EU countries protested after a slump in prices, prompting a raft of restrictions and bans on Ukraine's food exports in response.
Brussels called the bans "unacceptable" while Kyiv is at war with Russia.
Last month the European Commission reached an agreement with all the parties concerned to ensure the transit of Ukrainian grain exports through EU countries, however with restrictions.
Speaking alongside Zelensky, von der Leyen described the grain situation as "difficult".
"The immediate priority now is that the grain transit goes seamlessly and at the lowest possible cost outside from Ukraine towards the European Union," she said.
"This requires a very close cooperation of the different stakeholders. Therefore, we will jointly set up a coordination platform."
There is much good will for Ukraine in EU capitals, but also scepticism that a country with such a troubled recent history will be in shape to begin formal accession talks this year.
Brussels estimates that once they begin, the talks could take six to 10 years, while Kyiv has more optimistic hopes.
© Copyright AFP 2023. All rights reserved.