World 'Failing' To Protect Civilians In Combat Zones, UN Chief Says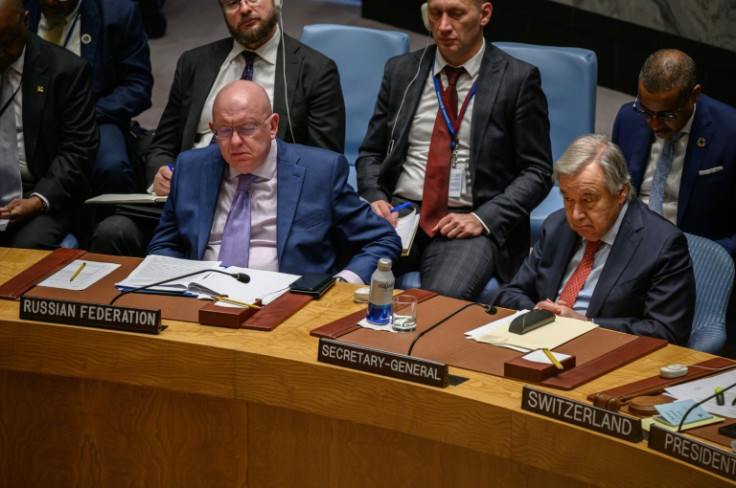 The world is failing to protect civilians as the number of people caught up in conflicts and their humanitarian aftershocks skyrocketed last year, UN Secretary-General Antonio Guterres said Tuesday.
In 2022, the United Nations tallied a 53 percent increase in civilian deaths compared to the year prior, with nearly 17,000 civilian deaths recorded across 12 conflicts.
Citing civilian deaths in Ukraine and Sudan, schools destroyed in Ethiopia and damage to water infrastructure in Syria, Guterres warned the UN Security Council that "the world is failing to live up to its commitments to protect civilians; commitments enshrined in international humanitarian law."
Guterres, sitting next to Russian ambassador Vasily Nebenzya, said UN research into the treatment of civilians of war zones showed 94 percent of victims of "explosive weapons" in populated areas were civilians last year, while more than 117 million people faced acute hunger primarily because of war and insecurity.
In Ukraine alone, which has been battling Russia's invasion for over year, the UN recorded nearly 8,000 civilian deaths and over 12,500 injuries, though it added that the actual figures are likely higher.
Worldwide, the number of refugees forced from their homes "due to conflict, violence, human rights violations and persecution" has reached 100 million, the UN chief added.
Also speaking in front of the Security Council on Tuesday was Mirjana Spoljaric, president of the International Committee of the Red Cross, who told members that "as we meet, countless civilians in conflicts around the world are experiencing a living hell."
"Any minute, the next missile can obliterate their home, their school, their clinic and everyone in it," she said. "Any week, they might run out of food or medicine."
Alain Berset, president of Switzerland -- which took up the rotating presidency of the council in May -- said that all parties to a conflict must abide by international humanitarian law.
"Conflicts are the main drivers of hunger," he said. "More and more people are facing acute food insecurity," with most concentrated in conflict zones like the Democratic Republic of Congo, Sudan and the Sahel, "or in other contexts where violence is endemic, such as Haiti."
French ambassador to the UN Nicolas de Riviere singled out alleged rights violations committed by Russia in Ukraine and by the Russian mercenary Wagner group in the Central African Republic and Mali.
The rise in civilians killed in armed conflicts last year is "very troubling," he added.
"Civilians have suffered the deadly effects of armed conflict for too long," Guterres said. "It is time we live up to our promise to protect them."
© Copyright AFP 2023. All rights reserved.