US VP Unveils $1bn For African Women's Empowerment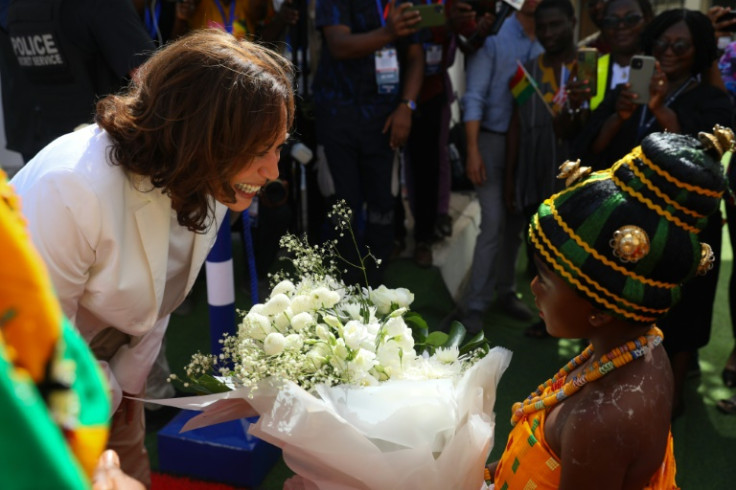 The United States Vice President Kamala Harris announced a more than $1 billion initiative to improve women's economic empowerment in Africa on Wednesday at the end of the first leg of a three-nation trip to the continent.
Harris' office revealed the programme, a mixture of US government funding and private sector commitments, while in Ghana where she was visiting before travelling to Tanzania and Zambia.
The tour follows up on a December summit held by President Joe Biden in Washington with African leaders as the US seeks to balance the growing influence of China and Russia on the continent.
Harris has already announced $139 million in development and culture assistance for Ghana and a $100 million investment in stability and peace-building for coastal West African nations, who face the threat of jihadist violence spilling over from the Sahel.
The initiative for economic empowerment includes a $60 million fund for women in the digital economy and nearly $400 million from the private sector "to support closing the gender digital divide".
"Advancing the economic status of women and girls is not only a matter of human rights, justice, and fairness -- it is also a strategic imperative that reduces poverty and promotes sustainable economic growth," her office said on Wednesday.
Another $528 million in private sector financing will help support women's economic empowerment in Africa, the statement said.
Closing the digital gap refers to programmes that will improve digital access and affordability for women, improve digital literacy and skills as well as promote online security.
The US vice president on Tuesday visited Ghana's Cape Coast Castle, a UNESCO World Heritage Site from where slaves were shipped to North and South America and the Caribbean.
She laid a wreath in honour of those who died during the slave trade, saying the horror of what happened there should always be remembered.
On Tuesday in Ghana's capital Accra, Harris called for more investments in innovation in Africa during a speech underlining her optimism for the continent.
She noted three areas of focus Washington believes could benefit from more investments: women's empowerment, the digital economy and good governance and democracy.
"We are 'all in' on Africa," she added, repeating what Biden said at the US-Africa leaders' summit last year.
Harris left for Tanzania on Wednesday and will be in Zambia later in the week.
© Copyright AFP 2023. All rights reserved.