US Envoy Says Russian Ship Picked Up Weapons In South Africa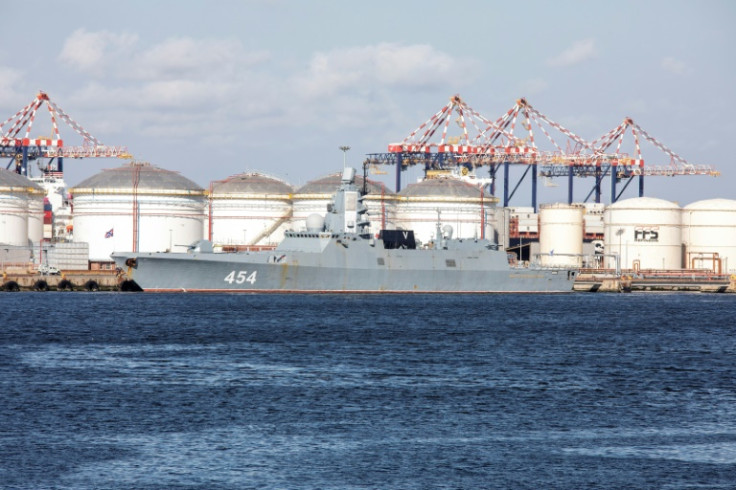 The United States envoy to South Africa said on Thursday he was confident that a Russian ship had picked up weapons in South Africa last year, in a possible breach of Pretoria's declared neutrality in the Ukraine conflict.
The rand and South Africa's 2030 government bond extended losses after the U.S. assertion as currency traders said they were worried that South Africa could now face Western sanctions.
The government is opening an independent inquiry led by a retired judge into the allegation, the office of President Cyril Ramaphosa said in a statement.
Earlier, Ramaphosa did not confirm or deny the shipment took place when an opposition leader asked him about it in parliament.
The U.S. ambassador to South Africa, Reuben Brigety, told local journalists in a briefing that Washington was confident a Russian vessel had uploaded weapons and ammunition from South Africa in December.
"Amongst the things we noted were the docking of the Russian cargo ship Lady R in Simon's Town between Dec. 6 and Dec. 8, 2022, which we are confident uploaded weapons, ammunitions ... as it made its way back to Russia," Brigety said.
"Arming of Russia by South Africa with the vessel ... is fundamentally unacceptable," Brigety said, adding that senior U.S. officials had "profound concerns" about South Africa not respecting its professed policy of non-alignment and neutrality over Russia's war in Ukraine.
This "does not suggest to us the actions of a non-aligned country", he said in a recording of the briefing heard by Reuters.
South Africa is one of Russia's most important allies on a continent divided over its February 2022 invasion of Ukraine, but says it is impartial on the conflict and has abstained from voting on U.N. resolutions on the war.
US WARNINGS ON HELPING RUSSIA
According to a biography posted on the website of the U.S. embassy in South Africa, among his previous jobs Brigety was a researcher with the arms division of Human Rights Watch.
Washington has repeatedly warned countries against providing material support to Russia, cautioning that those who do may be denied access to the world's most important markets.
During a briefing on Thursday, U.S. State Department deputy spokesperson Vedant Patel did not repeat the allegation that arms had been loaded onto the vessel. He told reporters that Washington had serious concerns about the docking of the ship at a South African naval port and had raised those concerns directly with multiple South African officials.
"We have been quite clear and have not parsed words about any country taking steps to support Russia's illegal and brutal war in Ukraine, and we will continue to engage with partners and countries on this topic," Patel said.
Asked about South Africa's pledge of an investigation, he said "it would certainly be a welcome step."
The U.S. Embassy in South Africa and the U.S. Treasury Department declined to comment.
Brigety made the remarks to journalists following his return to Pretoria after accompanying a high-level South African delegation to the United States to address concerns about South Africa's relationship with Russia.
South Africa's presidency said that the issue of the suspected arms shipment had already been discussed with U.S. officials who had agreed to let an investigation run its course, and that no evidence had yet been provided by Washington.
"The Ambassador's remarks undermine the spirit of cooperation and partnership that characterised the recent engagements between US government officials and a South African official delegation," the presidency said in its statement.
South Africa conducted joint naval exercises with Russia and China in February - calling it routine - which the U.S. and other Western powers expressed concern about at the time.
© Copyright Thomson Reuters 2023. All rights reserved.