UN Concerned By Lack Of Grain Ships Going To One Ukrainian Port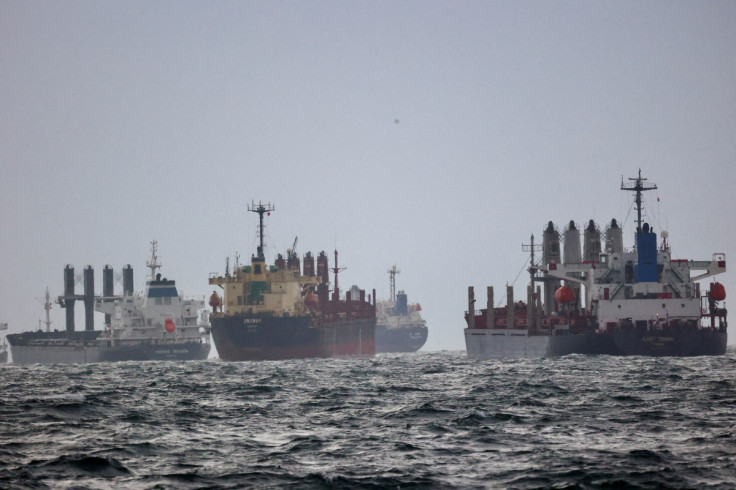 The United Nations expressed concern on Monday that Ukraine's Black Sea port of Pivdennyi (Yuzhny) has not received any ships since May 2 under a deal allowing the safe wartime export of grain and fertilizer.
U.N. spokesman Stephane Dujarric did not say who was to blame for the lack of ships traveling to the port, near Odesa, which is also where Russia used to pump up to 2.5 million tonnes of ammonia annually for export via a pipeline from Togliati.
That pipeline has been shut down since Moscow's February 2022 invasion of neighboring Ukraine. Russia used to export 4.4 million tonnes of ammonia a year - 20% of global seaborne trade - before its war in Ukraine.
The Black Sea grain deal - brokered by the U.N. and Turkey last July - allows for the safe export of ammonia and Russia has been pushing for the pipeline to be restarted. Russia agreed last week for the Black Sea pact to be extended for two months.
But a Ukrainian a government source told Reuters on Friday Kyiv would consider allowing Russian ammonia to transit its territory for export if the Black Sea grain deal is expanded to include more Ukrainian ports and a wider range of commodities.
The Black Sea grain deal ground to a halt last week as Russia decided whether to continue it. Under the agreement a Joint Coordination Centre (JCC) in Istanbul - made up of officials from the Ukraine, Russia, Turkey and the U.N. - authorizes and inspects ships inbound and outbound.
Dujarric said that since the deal was extended, nine ships have been inspected and cleared for travel, of which five are currently in the Ukrainian ports of Odesa and Chornomorsk loading cargo.
RUSSIAN DEMANDS
Dujarric said the JCC currently has 17 applications from vessels wanting to travel to Ukraine and that seven had been approved and were now waiting to be inspected.
"No vessels seeking to load foodstuffs in the port of Yuzhny/Pivdennyi have been approved for registration," he told reporters. "The port of Yuzhny/Pivdennyi has not received any vessel since 2 May. We are concerned by this restriction, and we call again for the full resumption of operations."
More than 30 million tonnes of food has been exported from the Ukrainian ports under the Black Sea deal and Dujarric said Pivdennyi (Yuzhny) port accounted for more than one third of those shipments. He noted that no fertilizers, including ammonia, had yet been exported under the Black Sea agreement.
Russia had threatened not to renew the deal unless a list of demands related to obstacles to its own food and fertilizer exports is met. Restarting the ammonia pipeline is one of those demands, which the United Nations has been trying to broker.
Another key Russian demand is for its state agricultural bank, known as Rosselkhozbank, to be reconnected to the SWIFT international payment network. It was cut off from SWIFT by the European Union in June over the invasion of Ukraine.
EU foreign affairs spokesman Peter Stano told Reuters the EU not considering any re-swifting of Russian banks.
The Kremlin said on Monday that the EU's reluctance to reconnect Russia's state agricultural bank to SWIFT showed the bloc's "non-constructive stance" on the Black Sea grain deal.
As an alternative to SWIFT, the United Nations proposed that other banks could process payments. Reuters has reported that JPMorgan processed the first payment for the Russian Agricultural Bank and could help with dozens more transactions.
© Copyright Thomson Reuters 2023. All rights reserved.