The Ukrainian Troops Collecting The Enemy's Dead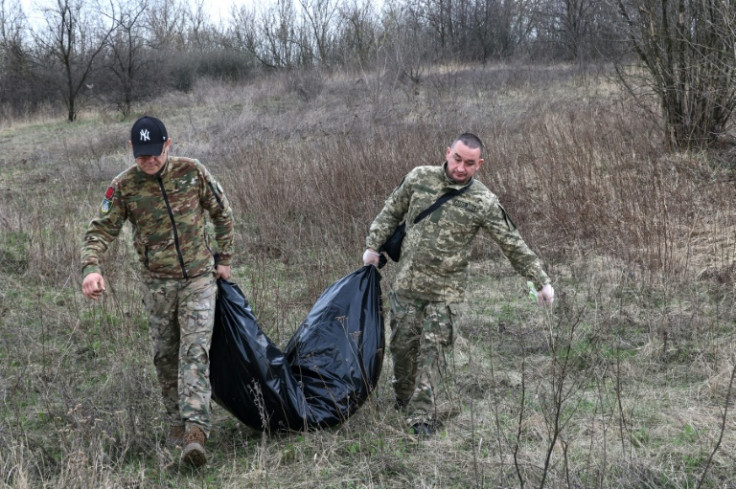 An enemy soldier's badly decomposed remains, still in his green uniform and black boots, had lain for months on the edge of a northeastern Ukraine village but a special unit was about to gather them.
Corpses can remain unfound under ruins or in rural areas as the fighting rages and Ukrainian officials say Russians often refuse to collect the bodies of their own fallen troops.
Picking up the bodies -- for public health reasons and for potential future exchange with Moscow's forces -- is a duty shared by Ukrainian authorities and volunteers.
In the village of Synykha in the Kharkiv region, the dead soldier's skeletal remains had lain in a patch of spring grass where they were recently discovered by a 10-year-old boy as he tended his cows.
After the boy's family reported the grim discovery to officials, a team of Ukrainian volunteers arrived to pick up the body in the presence of journalists.
One of the reporters asked the boy if he was frightened when he found the body.
"No," he said. "Why would we be?"
The water-damaged papers found on the remains were from the Lugansk People's Republic, Moscow's proxy force in eastern Ukraine. They belonged to a 48-year-old man.
It was not immediately possible to confirm the identity of the corpse, which would undergo examination by Ukrainian authorities.
"I can say that he was blown up," said a 35-year-old Ukrainian serviceman whose first name is Anton, but goes by the call-sign Yuryst (Lawyer).
Yuryst is a member of a volunteer unit dubbed J9, which searches for bodies of enemy soldiers that could then be returned to Russia as part of a swap with Moscow.
The body, Yuryst said, has been left lying on the ground and exposed to the elements since September 2022 when Ukrainian forces pushed back Russian troops from the Kharkiv region.
He either blew himself up or stepped on explosives.
Wearing gloves but no face masks, Yuryst and another member of his unit picked up the remains and put them in two bags before taking them to the city of Kharkiv to be stored on a refrigerated rail car.
As part of the identification process, DNA samples would be collected from the man.
Yuryst also noted the man's dental records would be helpful, saying: "This is the first time I have seen such perfect teeth."
Yuryst said he has discovered more than 400 bodies in and around the city of Kharkiv.
His grisly work is important, he said.
He and his teammates are building up a "bank" of bodies for future exchanges with Moscow, collecting evidence for future international tribunals and helping reduce the risk of contamination and disease.
"These are the three factors that make my work important," he said.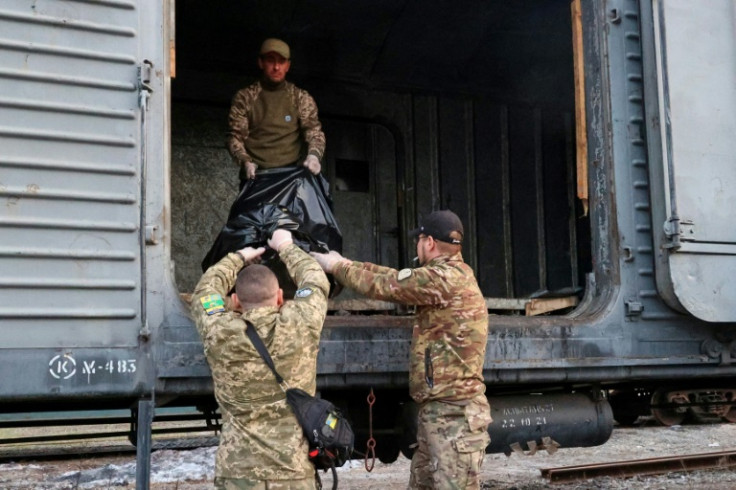 © Copyright AFP 2023. All rights reserved.