Ukraine Trains 40,000 Storm Brigade Troops For Counter-offensive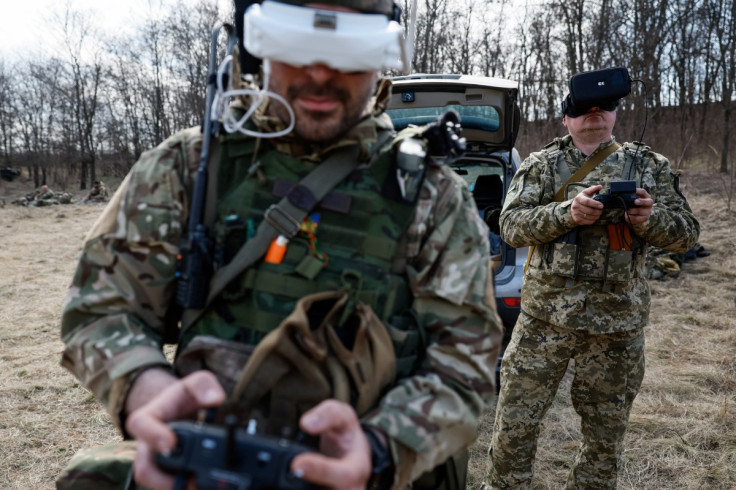 More than a year into Russia's full-scale invasion, Aleks, a translator with no prior military experience, was advancing through forest with rifle raised, training to ambush enemy forces in one of Ukraine's newest military units.
Border of Steel is one of eight new storm brigades totalling 40,000 soldiers that Ukraine wants to use during a counter-offensive against Russian occupiers in coming weeks or months.
"I want the war to be over as soon as possible and I hope the strike brigade will make it happen a lot faster," Aleks told Reuters at a training facility in a secret location in Ukraine.
He declined to give his surname for security reasons.
The units have benefited from an aggressive recruiting campaign on social media and billboards with the aim of attracting highly motivated volunteers.
The drive comes as Kyiv may face growing challenges recruiting new troops.
Its forces have been weathering a Russian onslaught for months in towns like Bakhmut in the east, where thousands of soldiers have died. Kyiv does not disclose its military losses.
The new brigades, drafted by the Interior Ministry, will fight alongside regular army units bolstered by new Western battle tanks and thousands of fresh troops trained by allied armies outside Ukraine.
The brigades have catchy names: Hurricane, Spartan, Chervona Kalyna, Frontier, Rage, Azov and Kara Dag, a mountain in Crimea.
Interior Minister Ihor Klymenko told Reuters he believed Ukraine still had considerable mobilisation potential and that his recruits included women, people with no military experience and former police officers and servicemen.
A great deal is riding on the counter-offensive for Kyiv.
A bungled and bloody attempt to seize back territory from Russian forces could dim optimism among key Western backers and push them to encourage Kyiv to seek negotiations with Moscow.
Ukraine beat back Russian forces from Kyiv last year before liberating swathes of the northeast and of the southern Kherson region. But Russian forces still occupy tracts of the east, the strategically important south and the Crimean peninsula.
President Volodymyr Zelenskiy says Ukraine wants every inch of its land back from Moscow, which has unilaterally declared five regions of Ukraine to be part of Russia despite not controlling them all.
"For them, the objective is to liberate Ukraine," Klymenko said of the recruits during an interview in Kyiv. "We are writing the great history of our state for many future decades."
'I WANT REVENGE'
Ukraine launched its recruitment campaign for the storm brigades at the beginning of February.
Klymenko said it would take up to four months to train civilians without experience, but that ex-police officers or soldiers could be trained in two.
In an undisclosed location on March 24, fighters of the Border of Steel brigade were doing target practice, training to fly drones and practising how to evacuate and rescue wounded soldiers.
A shooting instructor, call sign Hassid, said the recruits were absorbing the training quickly and were highly motivated.
Border of Steel is commanded by Valeriy Padytel, who led Ukraine's border guard forces in the defence of now-occupied Mariupol where he was captured after holding out in a huge steel works. He was freed in a prisoner swap last September.
He gave no clues as to when or where Ukraine would launch its counter-offensive. "We will keep training, will train all the time while the brigade is being formed and while we are waiting for battle orders."
Rather than the army, the brigades are overseen by the Interior Ministry, like other units including the Azov Regiment, which gained global prominence for holding out against invading forces at Azovstal steel works in besieged Mariupol last year.
Klymenko said 2.5% of the brigades were made up of female fighters: "Our women are patriotic enough, strong and they hate the enemy no less than men, they want to serve."
New recruit Vakha, 21, was initially drafted into the army, but requested to be transferred to the Border of Steel, he said.
He praised the training on offer and said he thought it would provide a more rapid route to the east where the fiercest fighting is raging.
Dmytro, another fighter who worked in a currency exchange office in civilian life, said he had enlisted in the brigade because of desire for revenge and frontline fighting.
He signed up with the army last year, but was sent to defend the Ukrainian border with the Moldovan breakaway region of Transdniestria, where a small contingent of Russian troops are stationed but where there have been no hostilities so far.
"I wanted to join even more because I want revenge, as harsh as it may sound in the 21st century. We have to get revenge for all our people, for the murdered children," he said.
© Copyright Thomson Reuters 2023. All rights reserved.