Ukraine Says It Advances On Bakhmut's Flanks To Entrap Russians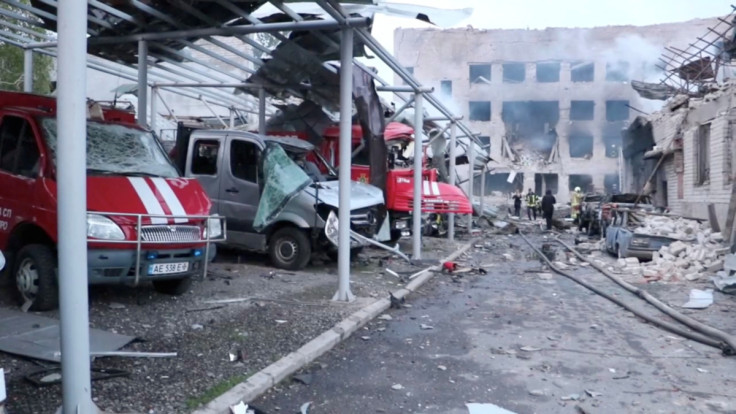 Ukraine said its forces north and south of Bakhmut were advancing on Monday, to entrap Russians inside the ruined city that Moscow says it captured over the weekend after Europe's bloodiest battle for ground troops since World War Two.
Russia's proclamation on Saturday that it had finally captured the final few blocks of Bakhmut culminated a battle both sides have called a meatgrinder, and gave Moscow its first chance to declare a substantial victory for more than 10 months.
But even as the Russians pushed forward inside Bakhmut, their forces on the city's northern and southern outskirts were retreating at the war's fastest pace for six months, giving both sides reasons to claim momentum had now shifted their way.
Moscow says capturing Bakhmut now opens the way to further advances in eastern Ukraine. Ukraine says its advance on the Russian forces' flanks was more meaningful than its withdrawal inside the city, and Russian reinforcements sent to hold Bakhmut will weaken Moscow's lines elsewhere.
"Through our movement on the flanks - to the north and south - we manage to destroy the enemy," Ukrainian Deputy Defence Minister Hanna Maliar said on Monday in televised comments.
"By moving along the flanks and occupying certain heights there, our armed forces have made it very difficult for the enemy to stay in the city itself."
Ukrainian forces were still advancing, particularly south of Bakhmut, Maliar said, though she said the intensity of fighting on the northern flank had subsided for now. Reuters could not independently verify the situation in either location.
Maliar also said Ukraine still held a foothold inside the city itself, although independent monitors say any remaining Ukrainian presence there is unlikely to be substantial.
"Wagner Group mercenaries likely secured the western administrative borders of Bakhmut City while Ukrainian forces are continuing to prioritise counterattacks on Bakhmut's outskirts," the Institute for the Study of War think tank said on Monday.
GIVE THE GENERALS GUNS
The battle inside Bakhmut so far has been led by Wagner, a private Russian army whose leader Yevgeny Prigozhin has been issuing daily audio and video messages mocking the leadership of Russia's regular armed forces and accusing them of abandoning their flanks even as his own forces advanced.
In his latest message on Monday, he repeated a vow to pull his troops out of Bakhmut, beginning in three days, and hand over the defence of the newly captured city to regular troops.
"On the western edges, defensive positions have been set up, and so Wagner will be leaving Artyomovsk between May 25 and June 1," he said, using the Soviet-era name for Bakhmut.
"If the Defence Ministry's own forces aren't enough, then we have thousands of generals - we just need to put together a battalion of generals, give them all guns, and it'll all be fine."
The Ukrainians say they have pushed the front back in places north and south of Bakhmut by more than a mile since last week, the fastest it has moved since they recaptured the southern city of Kherson in November.
Moscow's defence ministry has acknowledged that some Russian troops fell back outside Bakhmut last week, but has denied Prigozhin's repeated assertion that the flanks were crumbling, or that the military had withheld ammunition from Wagner.
The warring sides hold opposing views of the importance of the battle over Bakhmut, once a small mining city of 70,000 people, now an uninhabited ruin lain to waste by eight months of street-to-street combat and bombardment.
Moscow has consistently portrayed Bakhmut as a vital strategic objective towards its aim of securing control over the eastern Donbas region of Ukraine it claims to have annexed last year. Kyiv portrays the city as a "mousetrap" for Russian troops, important mainly because of the opportunity the battle presented to destroy the attacking forces in huge numbers.
Coming weeks are expected to demonstrate the impact that the huge losses in Bakhmut have had on the fighting strength of both sides in the next big phase of the war - Ukraine's first counteroffensive for six months, expected to begin soon.
Kyiv has thousands of freshly trained troops equipped with Western tanks and armoured vehicles, and says it aims to drive all invading Russian forces from its land. Moscow has been digging fortifications across the entire front line to defend the parts of Ukraine it has seized and claims to have annexed.
With the Ukrainian counteroffensive looming, Russia has launched missile and drone strikes across Ukraine several times a week this month, the fastest pace of such strikes since the war began. In the latest Russian attack, some 15 blasts were heard overnight in the southern Ukrainian city of Dnipro, a frequent Russian target lately.
"Thanks to the defence forces, we withstood the attack. Details will come in due time," the governor, Serhiy Lysak, said on the Telegram messaging app.
Ukraine also said Russian shelling had knocked out power lines to the Zaporizhzhia nuclear power plant, Europe's largest, located in Russian-held territory near the front.
The past week saw a major diplomatic push by Ukraine's President Volodymyr Zelenskiy, demonstrating newfound confidence in world travel to attend the G7 summit of big powers in Japan, stopping on the way at an Arab summit in Saudi Arabia. The previous week he visited Rome, Berlin, London and Paris.
It provided a contrast from Russian President Vladimir Putin who has left the former Soviet Union only once since ordering the invasion - for a day trip to Tehran last July - and has yet to make any official international visits so far in 2023.
© Copyright Thomson Reuters 2023. All rights reserved.