Ukraine Medics Race To Save Soldiers Wounded Near Bakhmut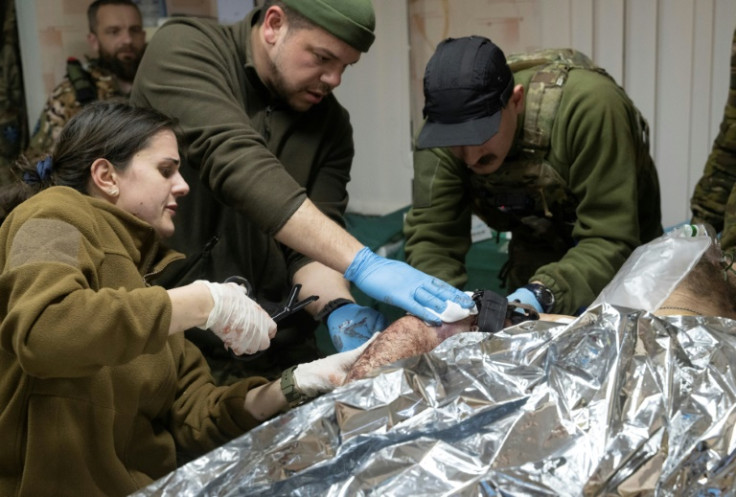 A wounded man with his arm in tourniquets groans with pain on an examination table as the anaesthetist reassures him: "That means the arm is alive."
Andriy, a Ukrainian serviceman, was injured Saturday morning near the frontline of Bakhmut, the scene of the heaviest fighting since Russia invaded last year.
He had been transported by army paramedics in an armoured personnel carrier to a point from which he was then taken to a medical stabilisation point in the Donetsk region in an ambulance.
En route, the medics stopped the bleeding caused by shrapnel from a mortar that ripped through Andriy's shoulder.
A team from the Da Vinci Battalion's "Ulf" (Wolves) medical unit then took over treatment inside the armoured vehicle.
Andriy grimaces as they get him on to a stretcher and into their ambulance for the drive to the stabilisation point.
Melted snow has turned the roads into muddy quagmires.
"The difficulty is this weather, because we can't drive fast," says the Ulf unit's 30-year-old surgeon, also named Andriy.
At the stabilisation point, basically a small clinic, medics lift the injured soldier onto a table in a foil blanket.
The anaesthetist, Oleg, talks reassuringly with him, since there is no equipment here for a general anaesthesia to make him unconscious.
"Andriy, how are you feeling?" Oleg asks.
"I've had better days," Andriy replies, before retching and vomiting.
"It's a reaction to an antibiotic," Oleg says. "We're doing all we can so you get well."
The nurse, Liana, 25, wipes his face, asking, "Is it painful, very painful?"
Andriy has an open fracture on his shoulder and has lost "maybe 1.5 litres of blood", Oleg says.
Medics try to remove the tourniquets but fear he is still bleeding, and decide to leave them in place for the journey to a hospital in Kramatorsk, a city about 25 kilometres (15 miles) away.
Tourniquets are life-savers but leaving them on too long can cause the injured limb to die.
The Ulf surgeon Andriy says the main thing is for the patient to stay alive.
Keeping a tourniquet on for three hours is "long", he acknowledges, but he is optimistic that the soldier's arm will be saved.
"We had a case where the guy had four hours (with a tourniquet) and the hand is now working," he says.
"Everything went very successfully," adds Liana.
As the medical team debriefs outside, a call comes in -- another patient to collect.
This time, a dark-haired 18-year-old arrives in an armoured personnel carrier camouflaged with branches.
He is pale but walking: he has a concussion, which is treated with medicine and rest.
The medical team immediately recognises him: two weeks ago, he also suffered a concussion when the car he was travelling in flipped over.
These two patients take the day's total at the stabilisation point to seven.
"It's simply non-stop," says Andriy, though he is happy with the treatment of the seriously injured man.
"This is why our unit is good: all steps working perfectly, even in this weather."
Lyubomir, a medical assistant who helped bring the soldier Andriy in from the front line, says Russians "often shell us".
Brain injuries due to pressure changes caused by explosions are among the most common risks for Ukrainian soldiers in this war, Oleg notes, along with damage to arms and legs.
"We work 20 hours (a day), seven days, without rest," says the anaesthetist, who has worked at the stabilisation point since last summer.
"It's difficult work."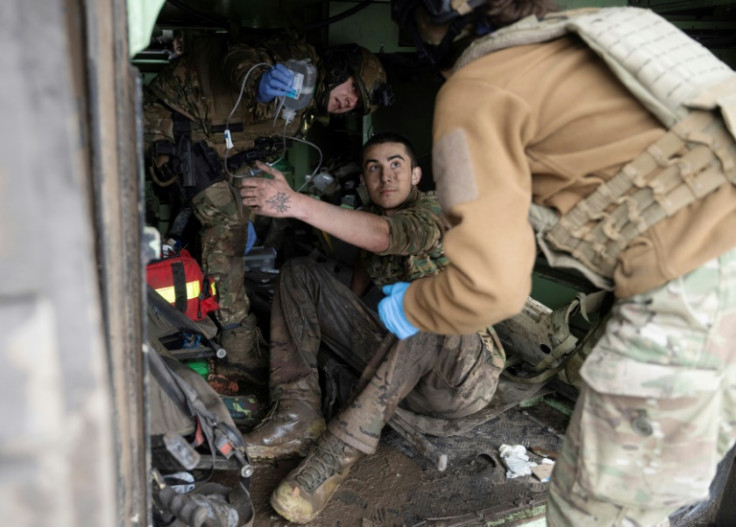 © Copyright AFP 2023. All rights reserved.