Thousands Displaced, 85 People Killed In Central Nigeria Clashes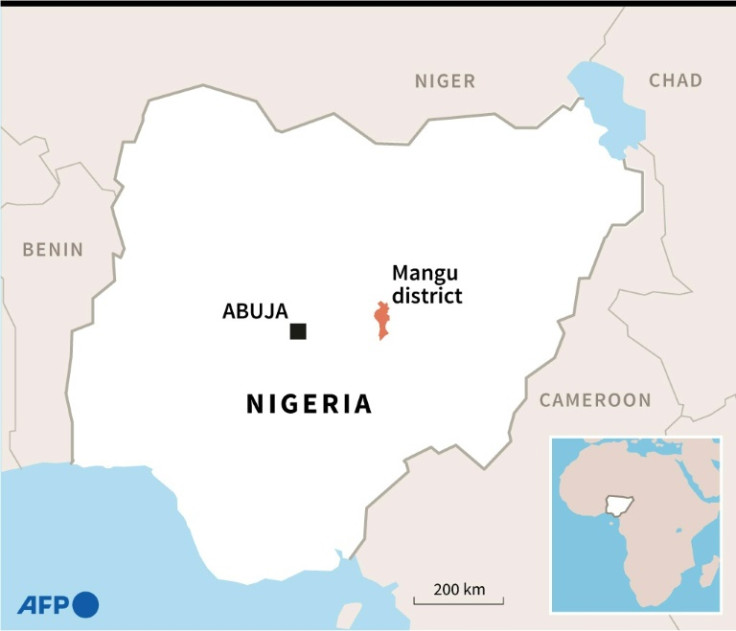 More than 3,000 people have been displaced in central Nigeria after at least 85 people were killed in ongoing clashes between herders and farmers, officials said Thursday.
The violence erupted on Monday, with an initial death toll of 30, in several villages of Plateau State, an area which has struggled with ethnic and religious tensions for years.
Several villages in the Mangu district of Plateau state were still caught up in the violence on Thursday, with residents fleeing, according to local sources and witnesses.
The crisis is just one of the many security challenges facing President-elect Bola Tinubu, who takes the helm of Africa's most populous nation later this month.
It was unclear what triggered this week's attacks in Mangu but tit-for-tat killings between herders and farmers often spiral into village raids by heavily armed gangs.
"Eighty-five bodies (were) recovered," the chairman of the local government council Daput Minister Daniel told AFP.
Joseph Gwankat, a community leader from the local Mwaghavul Development Association, gave the same toll.
A search and rescue team "discovered 85 dead bodies," he told AFP.
The National Emergency Management Agency (NEMA) said thousands of people were displaced and hundreds of houses destroyed as a result of the violence.
"We got a total number of 3,683 (people) displaced," Eugene Nyelong, regional coordinator at NEMA, told AFP, saying that emergency relief was on its way to those in need.
More than 720 houses were either partially or completely destroyed, he added.
The number of people injured was still unclear as of Thursday.
Gwankat, the community leader, said that 57 injured people were being treated in hospital while Nyelong from NEMA said an estimated 216 people had been injured in the attacks.
Police said that five people had been arrested in connection with the violence.
"Heavy security presence has been deployed," police spokesman Alfred Alabo said. "So far calm has been restored to the general area."
A lawmaker representing Mangu and neighbouring Bokkos in the house of representatives said however that there were still tensions in the area.
"There were gunshots up to about two hours ago. People are running for their lives," Solomon Maren told AFP early afternoon on Thursday.
He said the violence was being perpetrated by "hundreds" of individuals who are not from the communities and are "armed to the teeth."
"We have 17 communities that have been ravaged completely... So far over a 100 people are dead," said Maren.
The State Emergency Management Agency (SEMA), which visited the area on Wednesday, described the situation as dire.
"We could see houses that were still burning," Juni Bala, director of search and rescue at SEMA, told AFP. "We couldn't go further because (the) youth were angry."
"The situation on the ground is very bad. Children and women by (the) thousands were moving on the road," he said. "They need shelter, food, beddings, non-food items."
The Nigerian branch of rights group Amnesty International condemned the violence.
"These deplorable attacks took place at a time when the affected farming communities in Mangu were cultivating their farms and demonstrate complete disregard for human life," Amnesty Nigeria tweeted.
"The Nigerian authorities must do more to protect the people and bring the actual perpetrators of these attacks to justice."
Violence across Nigeria has been on the rise in the last few weeks after a brief calm period during the February presidential and March state elections.
On Tuesday, a US convoy carrying local staff and accompanied by police officers was attacked by gunmen in southeast Nigeria's Anambra State, killing at least four of the travellers.
The military is also battling a 14-year-old jihadist insurgency in the northeast, piracy in the Gulf of Guinea and kidnappings by armed criminals across the country.
© Copyright AFP 2023. All rights reserved.