Tears, Anger From Displaced Residents As Russia Claims Bakhmut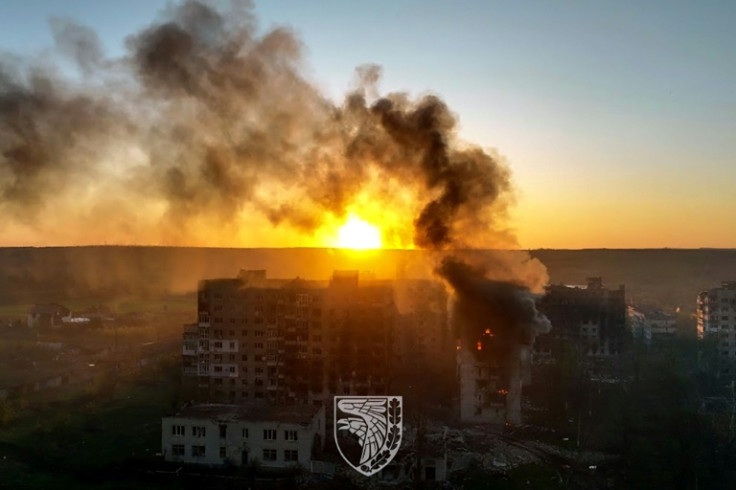 Residents of Ukraine's eastern hotspot of Bakhmut drop into a Kyiv support centre for medical care and clothing, weeping for their shattered town as Russia claims full control.
Russia's Wagner mercenaries claim to have captured Bakhmut after months of intense attacks -- while Ukraine insists it is still fighting in the destroyed city.
"I only want to say one thing to those who were waiting (for Russia): you've got what you wanted!" said Olga, who fled her hometown.
Olga and other displaced Bakhmut residents visit a support centre in Kyiv set up by their local government, where they can see a doctor and get free clothes or bedding.
With angry tears, Olga, 33, described how she arrived in the capital Kyiv in October, after fleeing Bakhmut with her husband and two children.
"Ending up homeless when you have an address" she said, as her two-year-old daughter Nikol fiddled nervously with her dress.
The Bakhmut residents follow what has happened to their homes in the once quiet and leafy town on news and social media channels, showing harrowing images on their mobile phones.
Russia's "Wagner (mercenaries) went in there and we realised that was it," Olga said.
"At first we had friends still there. When they (Russians) removed the last people who hadn't evacuated in time, we realised they were razing it all."
Vera Biryukova, a 74-year-old retired teacher, showed a stream of pictures of a burnt-out building with empty windows -- her flat is on the ground floor.
"There are battles round there now. I see from the footage that in my block the 2nd and 5th entrances were on fire and the roof too.
"There's nowhere to go back to any more, but I want to go home, even if only to stones," she sighed.
"We didn't think our town would become a fortress."
The grey-haired woman in a tracksuit breaks into tears as she describes how she left for Kyiv after months sleeping in the cellar, taking only a few clothes and leaving her precious family photos.
She declines to comment on Russia's actions, adding: "What can I say? I want to go home. I'm not a politician."
But Iryna Tkachenko, who worked as a shop assistant for 38 years, is strongly optimistic about Bakhmut's future.
"The city is not there any more, but we believe they (the Ukrainians) will seize it back, they will chase (the Russians) out," the 58-year-old said.
"Of course it's a great shame that a lot of people think the opposite. It's a great shame that they support" Russia, she added.
She said Russian forces had been removing locals from the conflict zone, including her brother and her sister-in-law, who stayed to work at a local children's hospital.
"My younger brother and his wife have just been taken to the other side," she said, referring to Russia.
"They went in (to work) to just safeguard the paperwork and worked as long as possible. Now they have been taken to Russia."
Tkachenko is herself originally from Russia and still has family there.
"My relatives write to me now: 'Everything will be fine. We are liberating you'," she said.
"I never expected it could be like this, that 80 percent (of Russians) now think we are enemies, that we are Nazis."
The centre for Bakhmut dispalced is bustling and decorated with children's drawings.
Its head, Lyudmyla Bondareva, says more than 6,500 people from the city are living in Kyiv and its surrounding region -- among them 1,400 children.
Visitors say making ends meet is a struggle -- mainly due to the high rents in Kyiv -- but Lyudmyla also complained of a lack of food parcels from donor organisations.
Iryna said she sleeps on a mattress on the floor in a studio flat shared with three others. She has not received any food parcels since September.
"It's hard but what can you do? That's life."
© Copyright AFP 2023. All rights reserved.