Sudan Resident 'Trying To Survive' As Food Runs Out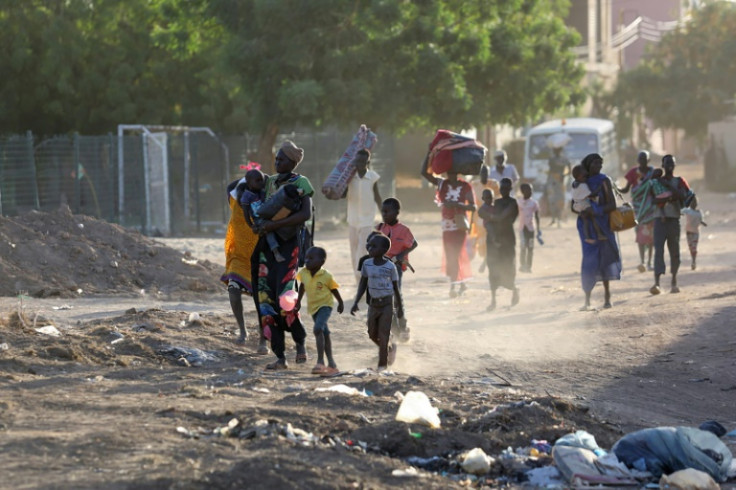 After more than a week of conflict in Sudan, Bandar Dowelbait said his food supplies have nearly run out and he can only go outside to look for drinking water during lulls in fighting which has turned his city into a war zone.
Dowelbait, 26, said he wants to leave Bahri, a city adjoining Khartoum, to find a safer area but can't because fuel is so scarce, describing the area as a "ghost town" since the fighting erupted between rival wings the Sudanese military.
"I feel like ... if we didn't die because of live ammunition or a bomb ... we might die from hunger and thirst," Dowelbait, a data analyst and part-time physics teacher, told Reuters on Tuesday via Zoom.
"Fears are surrounding me from all sides ... We are scared, but we are trying to hold on and survive here," he said, adding that he could hear the sound of bombing as he spoke, despite a 72-hour ceasefire announced on Monday.
At least 459 people have been killed since the power struggle erupted between the Sudanese army and a paramilitary group known as the Rapid Support Forces.
As embassies close and diplomats, foreign nationals and U.N. staff leave on special flights and buses, many Sudanese say they are being left to fend for themselves.
A video posted on Facebook showed Dowelbait driving through deserted streets as he went out to look for water on Monday. Columns of dark smoke rose into the sky in the background.
He said food supplies he bought at the start of the crisis had almost finished, and supermarkets and stores had been closed since the fighting began. "People are suffering from lack of food supplies, also from water," he said.
"We wait for the truce times in order to go out and bring water," he said, adding that the water station had been hit on the second day of the clashes. Electricity supplies had also been cut when power cables were hit by a bomb, he said.
The U.N. humanitarian office (OCHA) has said shortages of food, water, medicines and fuel were becoming extremely acute, with prices for basic goods, including bottled water rocketing.
Dowelbait said about seven out of 10 homes had been evacuated in his neighbourhood, and streets were deserted from 6 p.m.
In other parts of Bahri, he said people could be seen walking around, mostly looking for water or food.
"It's a ghost town or ghost city," he said.
"It's a town, not a city anymore."
(Writing by Tom Perry; Editing by Aurora Ellis)
© Copyright Thomson Reuters 2023. All rights reserved.