Starship, World's Biggest Rocket, Explodes During First Test Flight
Starship, the most powerful rocket ever built, exploded during its first flight on Thursday, but Elon Musk congratulated his SpaceX team on an "exciting" test of the next-generation spacecraft designed to send astronauts to the Moon, Mars and beyond.
SpaceX blew up the uncrewed rocket four minutes after it blasted off at 8:33 am Central Time (1333 GMT) from Starbase, the SpaceX spaceport in Boca Chica, Texas.
The Starship spacecraft that will eventually carry crew and cargo had been scheduled to separate from the first-stage rocket booster three minutes into the flight, but separation failed to occur and the rocket disintegrated in a ball of fire over the Gulf of Mexico.
"The vehicle experienced multiple engines out during the flight test, lost altitude, and began to tumble," SpaceX said. "The flight termination system was commanded on both the booster and ship."
It is standard procedure to destroy a wayward rocket to prevent damage to people or property below.
Despite the failure to complete the full 90-minute flight test and reach orbit, SpaceX and Musk, the founder and CEO of the private space company, declared it a success.
"Congrats SpaceX team on an exciting test launch of Starship!" Musk tweeted. "Learned a lot for next test launch in a few months."
"With a test like this, success comes from what we learn, and we learned a tremendous amount about the vehicle and ground systems today that will help us improve on future flights of Starship," SpaceX said in a statement.
The US space agency NASA has picked Starship to ferry astronauts to the Moon in late 2025 for the first time since the Apollo program ended in 1972.
NASA chief Bill Nelson congratulated SpaceX, saying "every great achievement throughout history has demanded some level of calculated risk, because with great risk comes great reward."
Starship consists of a 164-foot (50-meter) tall crew vehicle that sits atop a 230-foot tall first-stage Super Heavy booster rocket.
SpaceX conducted a successful test-firing of the 33 massive Raptor engines on the booster in February but the Starship spacecraft and the Super Heavy rocket were being flown together for the first time.
The integrated test flight was intended to assess their performance in combination.
The launch was initially scheduled for Monday but was postponed until Thursday because of a frozen pressure valve on the first-stage booster.
Musk had warned ahead of the test that technical issues were likely and sought to play down expectations for the inaugural flight.
"There's a million ways this rocket could fail," he said.
NASA will take astronauts to lunar orbit itself in November 2024 using its own heavy rocket called the Space Launch System (SLS), which has been in development for more than a decade.
Starship is both bigger and more powerful than SLS and capable of lifting a payload of more than 100 metric tonnes into orbit.
It generates 17 million pounds of thrust, more than twice that of the Saturn V rockets used to send Apollo astronauts to the Moon.
The plan for the integrated test flight was for the Super Heavy booster to separate from Starship after launch and splash down in the Gulf of Mexico.
They failed to separate however and the booster rocket and Starship spacecraft began spinning out of control, exploding four minutes into the test flight in what SpaceX euphemistically called a "rapid unscheduled disassembly."
Starship and the booster reached a peak altitude of 39 kilometers (24 miles) and a top speed of around 2,150 kms per hour (1,335 mph).
Had separation occurred, Starship, which has six engines of its own, was to continue to an altitude of nearly 150 miles, completing a near-circle of the Earth before splashing down in the Pacific Ocean about 90 minutes after launch.
"If we get far enough away from the launchpad before something goes wrong then I think I would consider that to be a success," Musk said prior to the test. "Just don't blow up the launchpad."
The eventual objective is to establish bases on the Moon and Mars and put humans on the "path to being a multi-planet civilization," according to Musk.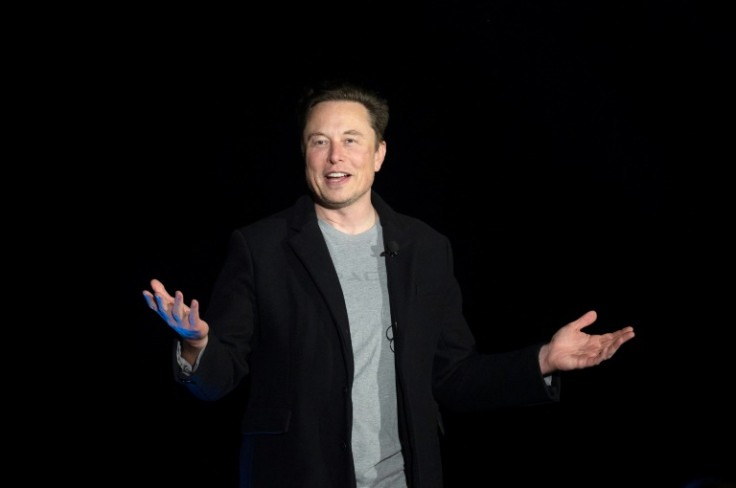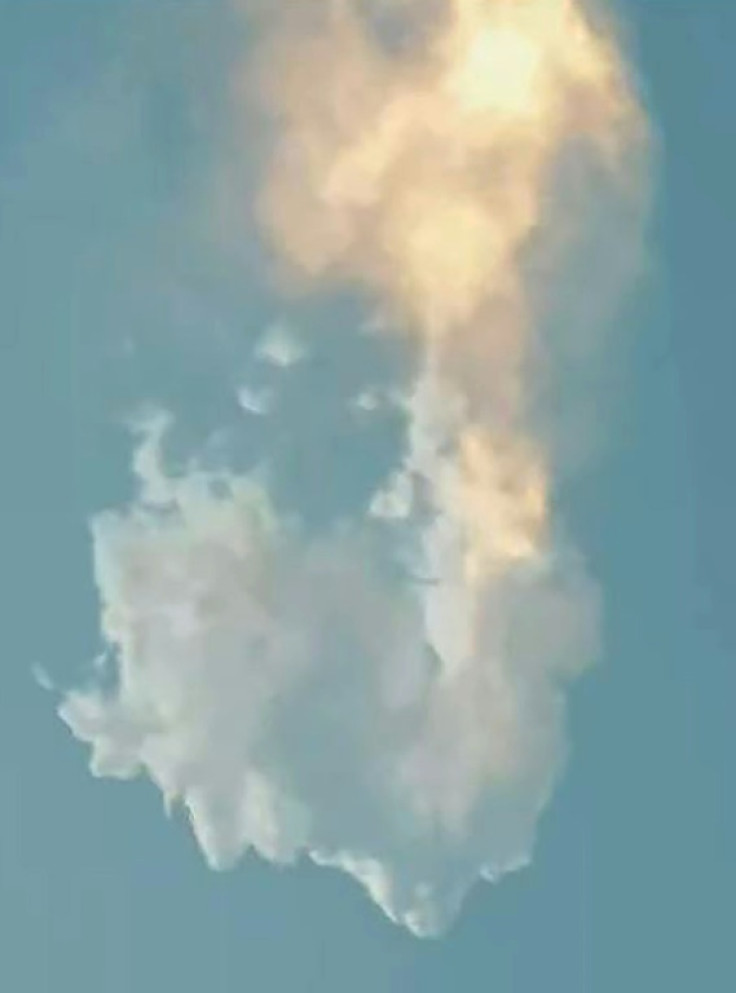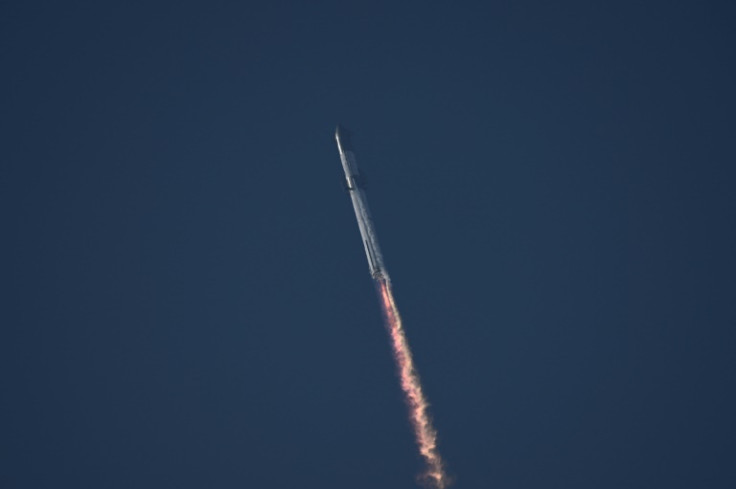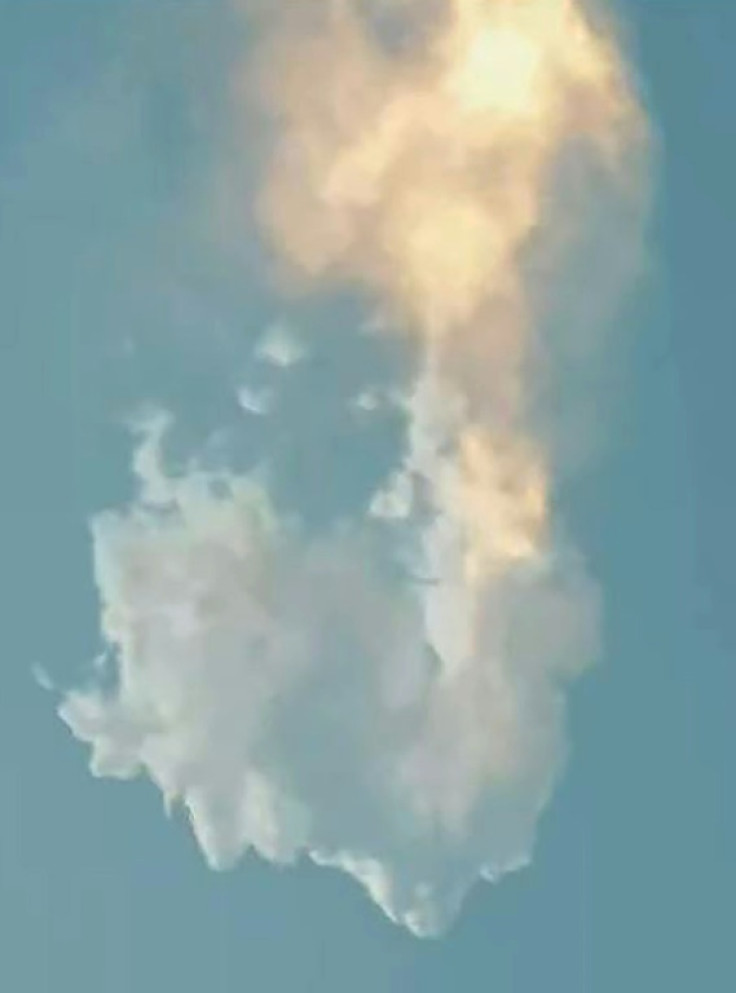 © Copyright AFP 2023. All rights reserved.