Senegalese Entrepreneur Creates First Locally Made Surfboards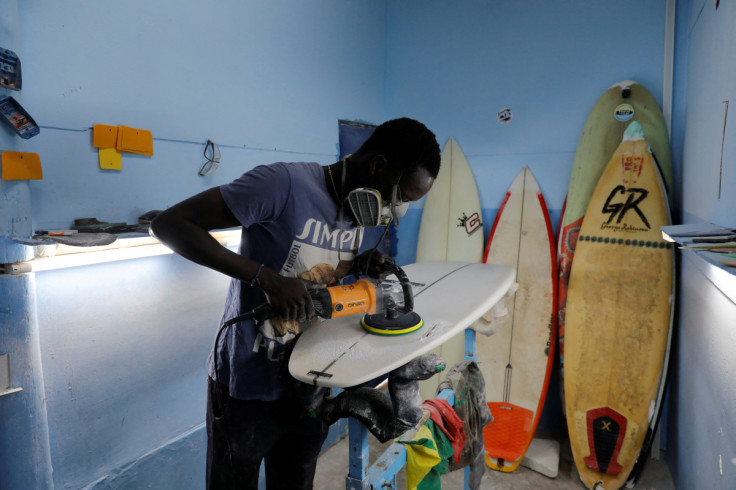 In a small beachside shack in Senegal's capital Dakar, Pape Diouf spends hours on each surfboard he makes, shaping its foam surface with an electric planer to create the perfect curve.
Diouf, 27, is the first surfboard maker in the West African country, which has attracted surfers from around the world for decades due to Dakar's position on a spit of land that juts out into the Atlantic Ocean, creating world-class waves.
The surf scene is dominated by locals, many of whom surf on old boards donated or passed down from older surfers. But Diouf, who is also a surfing instructor, aims to change that by increasing the availability of locally made boards.
"Ever since I was a little boy, I have dreamed of making my own board," said Diouf, who opened his business "Sunugal Surfboard Repair" in 2020 with funds he earned from participating in an entrepreneurship competition.
Although he also repairs boards, making them is now his focus.
"Board making really needs to pick up," said surfer Aita Diop, who competes with a board made by Diouf.
"Thank goodness we have one person making them, but there should be more so we can show that we are capable of making good boards," she said.
Diouf's boards sell for about 250,000 CFA francs ($422), which includes the cost of materials such as fibreglass that he has to import from Europe. He personalises some by decorating them with African fabrics.
"Currently it is only on site that you can have a Sunugal surfboard, but the goal of the project is not to stay in Yoff (the neighbourhood)," said Diouf, adding that he is working to open branches in other parts of Dakar and the country.
"Tomorrow, I hope we will see Sunugal surfboards all over the world."
($1 = 592.7500 CFA francs)
© Copyright Thomson Reuters 2023. All rights reserved.