Senegal Police Clash With Students In Dakar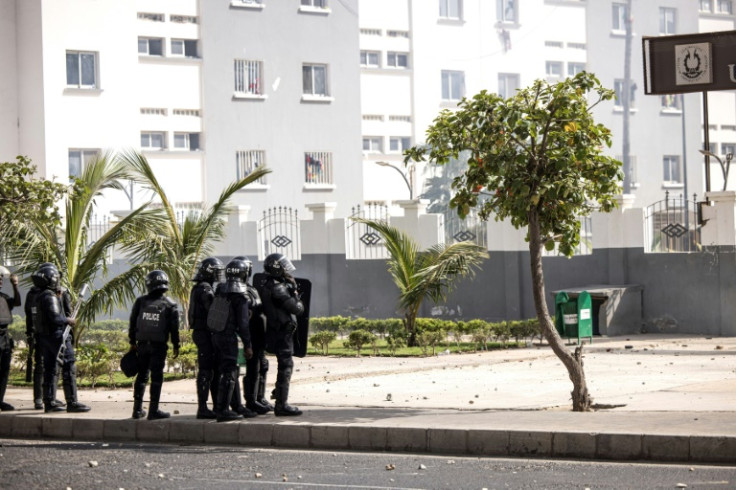 Senegalese police on Wednesday fired tear gas during clashes with students trying to take part in a banned demonstration in the capital Dakar on the eve of the resumption of an opposition leader's trial.
The police were deployed in numbers around Dakar university to deal with the students, who responded to the tear gas by hurling stones but were unable to leave the campus.
An AFP journalist at the scene was punched in the back of the head by a police officer who had ordered reporters to stop filming and move away.
The journalist was then arrested and frogmarched away to a van, while a police officer threw a tear gas canister towards other media representatives who attempted to intercede on his behalf.
Inside the van, the AFP journalist was punched several times in the upper body and behind the head by a police officer, he said after being released moments later.
"AFP strongly protests against this brutality exercised without any reason against one of its journalists who was doing his job," the news agency's global news director Phil Chetwynd said.
This behaviour "casts doubt on the repeated assurances of the Senegalese authorities regarding the free exercise of the profession and raises serious questions about the safety of journalists in the pre-election period", he added.
Senegal, a rare island of stability in the troubled West African region, is seeing another tense week with the resumption of the libel trial against Ousmane Sonko on Thursday.
Sonko and his supporters accuse the government of using the justice system to prevent him from running in next year's presidential election.
The outcome of the trial over alleged defamation of Tourism Minister Mame Mbaye Niang, a member of President Macky Sall's party, could leave Sonko ineligible to take part as a candidate next February.
The presidential party accuses Sonko of seeking to paralyse the country and of using the street to escape justice.
The opposition to President Sall had announced marches and demonstrations in Dakar and across the country on Wednesday, Thursday and Monday.
The Senegalese authorities have banned many of the planned rallies on Wednesday and Thursday, but the main opposition coalition has said it intends to defy the ban.
On Wednesday, members of the Yewwi Askan Wi coalition, whose name means "Liberate the People" in the local Wolof language, were dispersed by the tear gas in Dakar.
The tensions have considerably slowed down activities in the capital. School and university holidays have been brought forward. Public transport was suspended on Wednesday while banks closed early.
Several human rights organisations have expressed concern about the restrictions on freedom of assembly and expression in the West African nation and have called on Sall not to bid for a third term.
The president has left it in doubt whether he will run again next year.
© Copyright AFP 2023. All rights reserved.