Senegal Opposition Leader Calls For Mass Protest After Court Ruling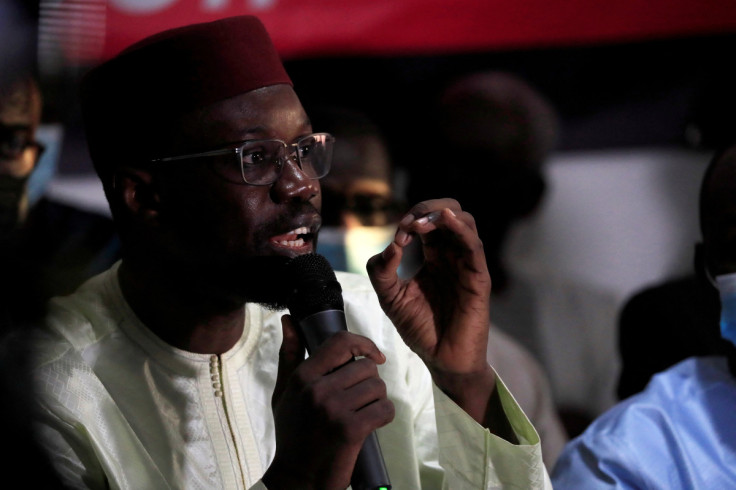 Senegalese opposition leader Ousmane Sonko on Tuesday rejected a court ruling that could preclude him from running in next year's election, vowing to pursue his candidacy and calling for a mass protest against President Macky Sall.
On Monday, a court extended Sonko's suspended sentence in a libel case to a length that could make the popular politician ineligible to stand in the February presidential vote - the latest twist in a long-running legal saga that has fuelled unrest in the usually peaceful West African nation.
"Nobody can prevent me from being a candidate," Sonko said in a speech streamed online. "What happened yesterday is not a travesty of justice but judicial banditry."
"I repeat my call for resistance and ask the Senegalese to stand up and face Macky Sall," he said.
The authorities have rejected Sonko's allegations that the justice system is being used to shut him out of the presidential race. The tense standoff has triggered protests and sometimes violent clashes between security forces and his supporters in recent years.
Sonko did not say if he planned to appeal the court ruling at the Supreme Court within the six-day deadline, but called on supporters to attend an opposition rally scheduled for Friday in the capital Dakar.
"We want the 12th (of May) to be a protest like nothing the country has ever seen," he said.
Senegal, which gained independence from France in 1960, is widely viewed as one of the most stable democracies in West Africa, but Sonko's long-running legal saga and concern Sall may try to run for a third term have fuelled tension in the streets.
Senegal's constitution only allows two presidential terms, but some fear Sall will use a recent tweak to the constitution to reset his mandate, which ends in 2024, allowing him to run again.
Friday's rally is being organised by the F24 platform, a large group of civil society organisations. Members wish to show their opposition to a third term by Sall and allege that the authorities have misused the justice system for political ends.
Aside from the libel case, Sonko is also charged with raping a beauty salon employee in 2021 and making deaths threats against her. He denies all wrongdoing, but the outcome of that case could also affect his electoral eligibility. The next court hearing is scheduled for May 16.
(Writing by Alessandra Prentice, editing by Mark Heinrich and David Gregorio)
© Copyright Thomson Reuters 2023. All rights reserved.