Senegal Opposition Leader Appeals Conviction Threatening His Presidential Bid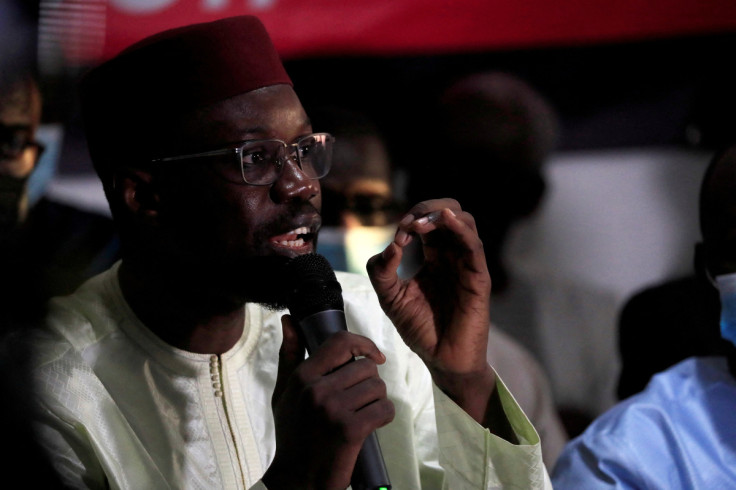 Senegalese opposition leader Ousmane Sonko has appealed a libel conviction that could prevent him running in presidential elections next year, one of his lawyers said, as another round of protests broke out on Monday.
Last week, Sonko received a suspended six-month sentence for libel stemming from his accusations that the minister of tourism had embezzled funds.
The conviction casts doubt over Sonko's eligibility to run for president in an election that where President Macky Sall is widely expected to seek a third term. Sall has neither confirmed nor denied this.
Sonko has denied the charges and denounced the conviction, as well as another trial he is facing on charges of rape, as politically motivated. The government denies this.
One of Sonko's lawyers, Bamba Cisse, declined to provide further details on the appeal.
The legal saga besetting Sonko has spurred more than two years of tensions and sporadic unrest in Senegal as supporters - many of whom are disenfranchised urban youth - have heeded calls for protests that often spiral into violent clashes with security forces.
Clashes broke on Monday out in the southern city of Ziguinchor, of which Sonko is mayor and where he is currently staying, after police used tear gas to disperse stone-throwing supporters outside his home.
Three protesters were injured in the process, Senegal's state news agency reported. Senegal's interior ministry said a police officer died following an accident involving an armoured personnel carrier.
The crowd had barred access to Sonko's house to prevent security forces from taking him to court for the next rape trial hearing, scheduled to take place on Tuesday in the capital Dakar.
Skirmishes were also reported in the capital Dakar on Monday.
Sonko said earlier this month that he would no longer obey court summonses or co-operate with the justice authorities unless his security is guaranteed.
The charismatic former tax inspector has become the face of growing frustration against Sall, accused of becoming increasingly repressive and failing to improve livelihoods since he took power in 2012.
Hundreds rallied in Dakar last week in the latest show of protest against Sall's potential bid for a third term in the upcoming February poll.
Senegal's new constitution, adopted in 2016, limits presidential terms to two five-year mandates.
But Sall told French newspaper L'Express in March that he could technically run because the new constitution reset the clock on his number of terms.
© Copyright Thomson Reuters 2023. All rights reserved.