Russia Threatens To Scrap Ukraine Grain Deal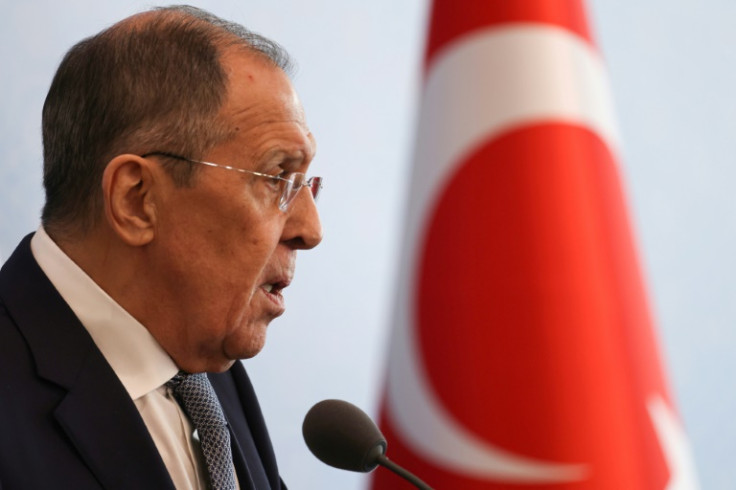 Russian Foreign Minister Sergei Lavrov on Friday threatened to abandon a landmark grain deal with Ukraine if obstacles to Moscow's exports remained.
Negotiated in July by Turkey and the United Nations, the agreement allows Ukraine -- one of the world's top grain producers -- to export grain through a safe corridor in the Black Sea.
"If there is no further progress in removing barriers to the export of Russian fertilisers and grain, we will think about whether this deal is necessary," Lavrov told a news conference in the Turkish capital Ankara, alongside his counterpart, Mevlut Cavusoglu.
The agreement has so far allowed the export of more than 27 million tonnes of grain and agricultural products.
It was renewed twice. When it was extended in March, Russia said it would be valid for 60 days instead of the 120 days in the original agreement.
Moscow has been complaining that its side of the agreement, promising the right to export fertiliser, is not being respected.
Turkey is pushing for a 120-day extension although it acknowledges that the agreement has not been fully implemented.
"We value the continuation of the agreement which is also important in terms of reducing the global food crisis," Cavusoglu said.
There are no sanctions on Russian exports of food and fertilisers to global markets but the problems are related to the secondary sanctions imposed on shipping and insurance companies as well as banks.
"USA and England took some steps in terms of payment and insurance but we have to be fair, the problems continue", he said, adding that barriers remained.
Lavrov, who arrived in Ankara on Thursday, is due to meet with President Recep Tayyip Erdogan later in the day, a Turkish official told AFP.
NATO member Turkey, which has good ties with both Russia and Ukraine, has pushed both countries to resume peace talks after negotiations broke down last year.
Lavrov said Friday Moscow wants any Ukraine peace talks to focus on creating a "new world order".
"Any negotiation needs to be based on taking into account Russian interests, Russian concerns," Lavrov said.
"It should be about the principles on which the new world order will be based," adding that Russia rejects a "unipolar world order led by 'one hegemon'".
Russia has long said it was leading a struggle against the United States' dominance over the global stage, and argues the Ukraine offensive is part of that fight.
The Kremlin this week said it had no choice but to continue its more than year-long offensive in Ukraine, seeing no diplomatic solution.
Cavusoglu, whose country hosted talks between Russia and Ukraine last year, expressed "concerns that the war will escalate in spring," calling for the resumption of dialogue.
Russia meanwhile is mediating talks to normalise ties between Turkey and Syria after years of tensions since the Syrian civil war, which has left 500,000 people dead and displaced millions since 2011.
Ankara supported rebel groups fighting to oust Syrian President Bashar al-Assad.
Cavusoglu said problems cannot be resolved in a single meeting, adding: "We are realistic. The dialogue must continue".
Russian President Vladimir Putin and Erdogan have been in regular contact either on telephone or through face-to-face meetings.
Last year, the two leaders met four times in Sochi, Tehran, Samarkand and Astana.
Erdogan has said Putin might visit Turkey to inaugurate Turkey's first nuclear power plant -- built by a subsidiary of Russia's nuclear energy company, Rosatom.
Turkish media said Putin was unlikely to come and instead may be connected by video link for the ceremony on April 27 in the southern province of Mersin.
© Copyright AFP 2023. All rights reserved.