Russia Claims Bakhmut Surrounded, Kyiv Says Holding On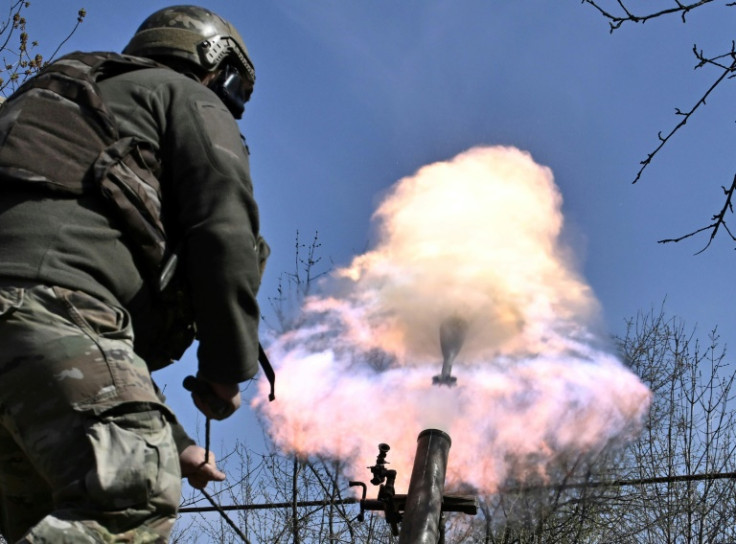 Russia said Thursday it had cut off Ukrainian forces inside Bakhmut, while Kyiv insisted supply lines were still open into the town, scene of the most brutal battle of the war.
AFP was unable to verify the status on the ground in the eastern town, which has turned into the longest and bloodiest fight since Russia invaded Ukraine last year.
Russian troops have been battling since last summer to capture the town, which had a pre-war population of 70,000, and whose fall would now mostly present a symbolic victory for Russia.
The Russian army said its airborne troops were "blocking the transfer of Ukrainian army reserves to the city and the possibility of retreat for enemy units."
It also said that Wagner mercenary units were advancing in Bakhmut.
But the Ukrainian army told AFP it had communication with its troops inside Bakhmut and was able to send them munitions.
"This does not correspond to reality," Sergiy Cherevaty, spokesman for Ukraine's eastern forces said, referring to Russia's claims.
"We are able to... deliver food products, ammunition, medicines, all that is necessary, and also to recover our wounded."
The Ukrainian general staff nevertheless acknowledged a "difficult" situation in Bakhmut.
But even as Russian forces say they are getting closer to the town, some residents of nearby areas have no plans to leave.
"I've got nowhere to go. I can't afford to leave," 71-year-old Vira Petrova told AFP in the village of Kalynivka, several kilometres west of Bakhmut.
"If my home is destroyed. I'll live in my basement," she added, not flinching after each boom.
Petrova gestured to artillery damage to her home, explaining why she was no longer afraid of the war creeping nearer.
"We've already been shelled. Half the kitchen roof was destroyed. Our neighbour's roof was destroyed. We're used to it," she said.
Her street, lined with cherry blossom trees and abandoned one-storey homes, has only around two dozen residents remaining -- a fraction of those who once called it home.
The Kremlin is looking to present a triumph at home as the offensive drags on for a second year.
Adding confusion to the situation on the ground, Yevgeny Prigozhin, head of Russian paramilitary outfit Wagner, also cast doubt on Moscow's claims, saying it was "too early" to talk about Russian forces encircling Bakhmut.
"The Ukrainian Armed Forces continue to deploy reserves and transfer them," Prigozhin's press office said on social media.
"The hardest, bloodiest battles are going on, so it's too early to talk about the complete encirclement of Bakhmut".
The European Union on Thursday added Wagner to its sanctions list for "actively participating in the Russian war of aggression against Ukraine".
Wagner had already been placed on a separate EU sanctions list in February for violating human rights and "destabilising" countries in Africa.
The EU also slapped sanctions on RIA FAN, a Russian media outlet that is part of the Patriot Media Group, whose board of trustees is headed by Prigozhin.
Tensions between the Kremlin-linked businessman and Russia's army have emerged during the battle for Bakhmut.
Both Russia and Ukraine have conceded big losses in Bakhmut, with neither giving numbers.
Recent days have suggested Russian forces are making some gains, after months of Kyiv and Moscow wearing each other down.
Kyiv has said the battle for the town is key to holding back Russian forces along the entire eastern front.
Experts say that the salt mining town's political importance has surpassed any military significance as the battle drags on.
Several Russian war correspondents have made visits to Bakhmut this week, publishing images of a city of ruins.
The Russian-installed head of the eastern Ukrainian region of Donetsk, Denis Pushilin, also visited Bakhmut this week.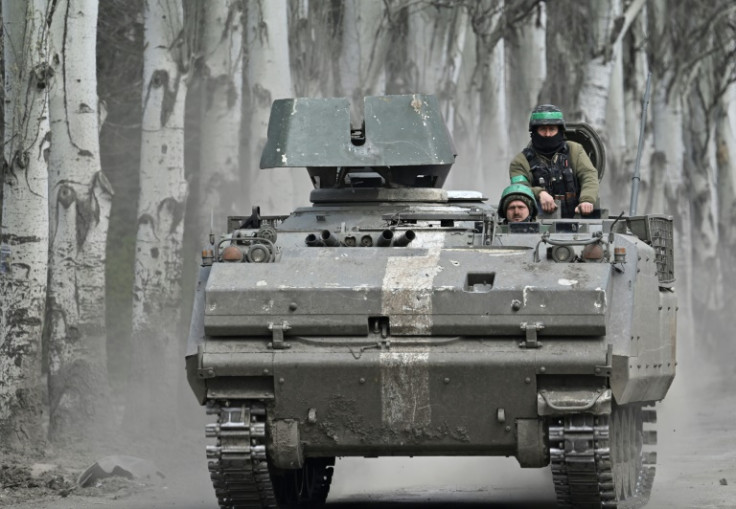 © Copyright AFP 2023. All rights reserved.