Return Of Benin Bronzes Delayed After Nigerian President's Decree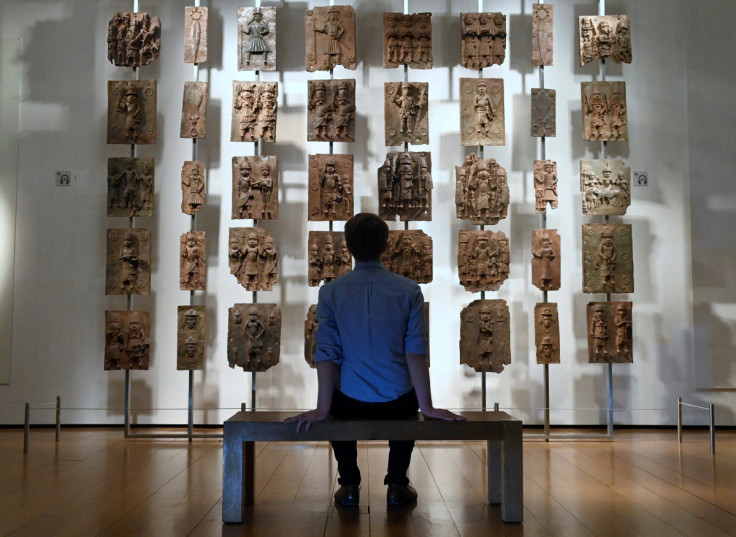 A British university has postponed the return of more than 100 Benin Bronzes to Nigeria after a presidential decree named a royal ruler as the owner and custodian of all returned artefacts, the head of museums and monuments said on Wednesday.
Nigeria is on a quest to get thousands of intricate bronze sculptures and castings that were looted by British soldiers during a raid on the then-separate Kingdom of Benin, located in what is now southwestern Nigeria, in 1897.
But an official gazette signed by President Muhammadu Buhari on March 28 said the Oba of Benin was the rightful owner of all returned Benin Bronzes and was responsible for the management of all places where the artefacts were kept.
Abba Isa Tijani, director general of Nigeria's National Commission for Museums and Monuments said the University of Cambridge's Museum of Archaeology and Anthropology had planned to return 116 artefacts this month but this was put on hold after the decree started circulating last month.
"It is postponed because the gazette is not very clear on some issues and we wanted to clarify to find out which body is responsible for the signing of the agreement (to repatriate the artefacts)," Tijani said.
The commission has in the past signed agreements to return looted artefacts, including from Cambridge college and Germany.
The University of Cambridge's Museum of Archaeology and Anthropology did not immediately respond to a Reuters request for comment.
Tijani said the commission was also not officially notified about the gazette and so could not "properly answer any concerns that will be raised by our partners".
There have been questions on whether Nigeria has capacity to safely keep artefacts returned from abroad.
A spokesperson for the Oba's palace could not be immediately reached for comment. The palace has previously said it planned to build a museum to house returned artefacts.
© Copyright Thomson Reuters 2023. All rights reserved.