No Ships Inspected On Tuesday Under Ukraine Black Sea Grain Deal, UN Says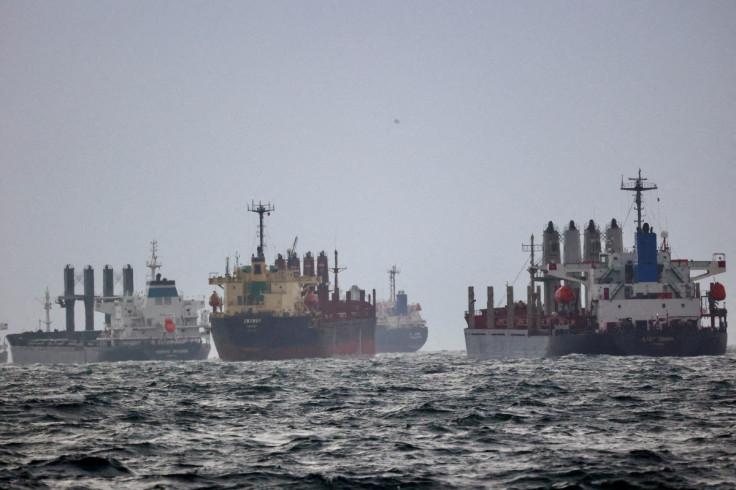 No ships were inspected on Tuesday under the Ukraine Black Sea grain deal "as the parties needed more time to reach an agreement on operational priorities," the United Nations said, adding that routine inspections were due to resume on Wednesday.
"We urge all involved to meet their responsibilities to ensure that vessels continue to move smoothly and safely in the interest of global food security," U.N. spokesman Stephane Dujarric said in a statement, adding that there are currently 50 vessels waiting to move to the Ukrainian ports. Official online data shows no ships were inspected on Tuesday.
All ships are inspected by officials from Russia, Ukraine, Turkey and the United Nations in waters near Turkey on the way in and out of Ukraine.
However, because of logistical constraints ships must wait their turn to be inspected.
Inbound inspections became less efficient over the past week or so as Russia began to insist on a random list of vessels to be chosen for inspection each day, according to a source familiar with the situation, speaking on condition of anonymity.
Prior to this change, Ukraine had been submitting a list of priority vessels for inspection a day in advance - based on the needs of its ports, storage and capacity - and all four parties generally rubber-stamped it, the source said.
Since the deal allowing the safe wartime export of grain from Ukraine's Black Sea ports was agreed in July, more then 27.5 million tonnes of food have been exported. Dujarric said this had contributed to the lowering of food prices globally.
"This critical work is done against the backdrop of the ongoing war and active hostilities. We do not underestimate the challenges, but we know they can be overcome," he said. "The U.N. team is working closely with all sides, taking into consideration all parties' concerns."
The deal - initially brokered last July by Turkey and the United Nations - was renewed last month for at least 60 days, half the intended period.
"The global humanitarian benefits of the initiative are evident and are not limited to exports to specific low-income countries. It is in everyone's interest to keep it going," Dujarric said.
Russia has said it will only extend the deal beyond May 18 if impediments to its export of agricultural products and fertilizer are removed. Moscow's demands include returning the Russian Agricultural Bank to the SWIFT banking system and unblocking the financial activities of fertilizer companies.
To help persuade Russia to allow Ukraine to resume its Black Sea grain exports last year, a three-year deal was also struck in July in which the United Nations agreed to help Russia with its food and fertilizer exports.
Western powers have imposed tough sanctions on Russia for its invasion of Ukraine in February 2022. While its food and fertilizer exports are not sanctioned, Moscow says restrictions on payments, logistics and insurance industries are a barrier to shipments.
© Copyright Thomson Reuters 2023. All rights reserved.