No Deal Yet On Extending Ukraine Grain Deal, UN Proposals In Focus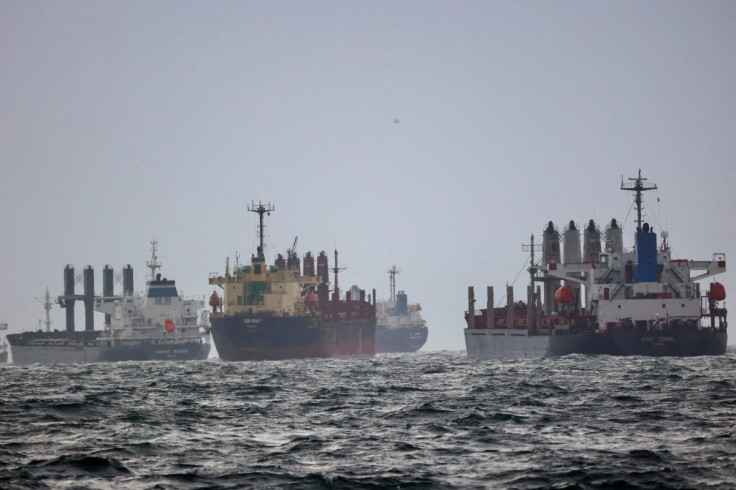 Ukraine, Russia, Turkey and the United Nations discussed on Thursday U.N. proposals to extend a deal allowing the safe Black Sea export of Ukraine grain, which Moscow has threatened to quit on May 18 over obstacles to its grain and fertilizer exports.
The U.N. and Turkey brokered the Black Sea agreement in July last year to help tackle a global food crisis that has been worsened by Moscow's war in Ukraine. At the same time, the U.N. agreed to help Moscow facilitate its own agricultural shipments.
The meeting of senior officials in Istanbul on Thursday appeared to end without Russian agreement to extend the Black Sea deal. The Kremlin said earlier on Thursday that Russian President Vladimir Putin could speak with Turkish President Tayyip Erdogan at short notice if needed regarding an extension of the deal, but there were no such plans at present.
"The meeting discussed the recent proposals by the United Nations, namely the resumption of the Togliatti-Odesa ammonia pipeline, the longer extension of the deal, improvements at the Joint Coordination Centre for stable operations and exports, as well as other issues raised by the parties," the U.N. said.
"The parties presented their views and agreed to engage with those elements going forward," the U.N. said in a statement.
RUSSIAN DEMANDS
Turkey's Defence Ministry said progress was made in the talks on the Black Sea grain deal and that the parties agreed to continue four-way technical meetings on the deal. On Wednesday, Turkish Foreign Minister Mevlut Cavusoglu said he thought the deal could be extended for at least two more months.
Ukrainian Deputy Prime Minister Oleksandr Kubrakov said after the talks on Thursday that the grain deal should be extended for a longer period and expanded. He said the talks would continue online.
Russia has issued a list of demands regarding its own agricultural exports that it wants met before it agrees to an extension of the deal. Those include restarting a pipeline that delivers Russian ammonia to a Ukrainian Black Sea port, which the U.N. has been pushing for.
While those Russian exports are not subject to Western sanctions imposed following the February 2022 invasion of Ukraine, Moscow says restrictions on payments, logistics and insurance are a barrier to shipments.
"Let me be clear, Russia is exporting just fine. It is exporting grain and fertilizer at the same levels, if not higher, than before the full scale invasion (of Ukraine)," U.S. Ambassador to the U.N. Linda Thomas-Greenfield told reporters.
Another key Russian demand is returning access to the SWIFT payment system for the Russian Agricultural Bank, known as Rosselkhozbank, which was cut off by the European Union in June over Moscow's invasion of Ukraine.
As an alternative the United Nations proposed other banks could help process payments. Reuters has reported that JPMorgan has processed the first payments for the Russian Agricultural Bank and could process dozens more, however Moscow has said this is not a long term fix.
'WEAPONIZING FOOD'
Deputy Foreign Minister Sergei Vershinin, speaking to Russian media in Istanbul, said on Thursday that if Russia's demands remained unresolved, then the Black Sea deal would "cease its existence". He specifically cited SWIFT access.
Some 30 million metric tonnes of grain and foodstuffs has been exported from Ukraine under the deal, including nearly 600,000 metric tonnes of grain in World Food Programme vessels for aid operations in Afghanistan, Ethiopia, Kenya, Somalia, and Yemen, the United Nations has said.
Officials from Russia, Ukraine, Turkey and the U.N. make up a Joint Coordination Centre (JCC) in Istanbul, which implements the Black Sea export deal. They authorize and inspect ships. No new vessels have been authorized by the JCC since Thursday.
In an excerpt of a letter seen by Reuters last month, Russia told its JCC counterparts that it will not approve any new vessels to take part in the Black Sea deal unless the transits will be done by May 18 - "the expected date of ... closure."
"This is Russia once again weaponizing food," Thomas-Greenfield said on Thursday. "They're holding vulnerable and hungry people in Africa, the Middle East and around the world hostage."
© Copyright Thomson Reuters 2023. All rights reserved.