At New York Trial, A Defiant, Angry Trump Erupts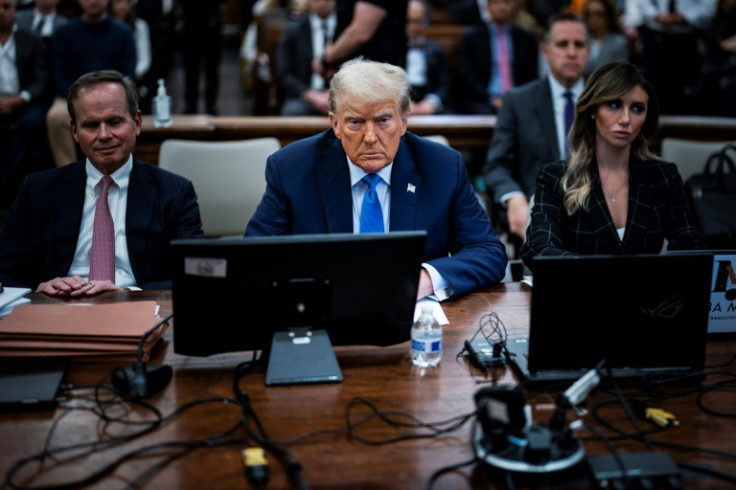 Among the glittering chandeliers and wooden benches of a stately and solemn New York City courtroom, Donald Trump took the stand Monday, raising his right hand and swearing his testimony would be truthful.
For four hours, only interrupted by a lunch break, the former president and current 2024 Republican front-runner sparred with prosecutors in the civil case threatening his real estate empire, at times erupting in anger amid the staid surroundings.
As he sat with his arms crossed and head slightly cocked, Trump's irritation at the questions from prosecutor Kevin Wallace about his luxurious homes and massive skyscrapers was evident.
He framed everyone as the enemy, from the "very hostile" judge" to the New York Attorney General whose office is leading the case -- a "political hack," according to Trump.
"I think this case is a disgrace" the 77-year-old said on the stand, wearing a navy blue suit with an American flag on the lapel.
"It's election interference."
Trump, his eldest sons Don Jr and Eric, and other Trump Organization executives are accused of exaggerating the value of their real estate assets by billions of dollars to obtain more favorable bank loans and insurance terms -- just one of the many legal battles the twice-impeached former president currently faces.
Trump's long-winded responses at times earned a rebuke from the judge, three years his junior and seated just to his right, who warned the former president: "This is not a political rally."
"Please, just answer the questions, no speeches," pled the white-haired Judge Arthur Engoron, 74,
At one point, it was Wallace who took on one of Trump's tirades, waiting until the end of the diatribe to ask him -- in the way one might address an angry child -- if he was finished.
"You're done?" the prosecutor asked.
"I'm done," Trump allowed.
By the end of the day -- which marked the first time a US president had publicly taken the stand as a defendant in more than a century -- Trump had ceded nothing.
"You have no case," he told the prosecutor, provocatively.
The judge cut him off.
"It's a broken record," Engoron said.
© Copyright AFP 2023. All rights reserved.