Macron, Von Der Leyen To Press China's Xi On Ukraine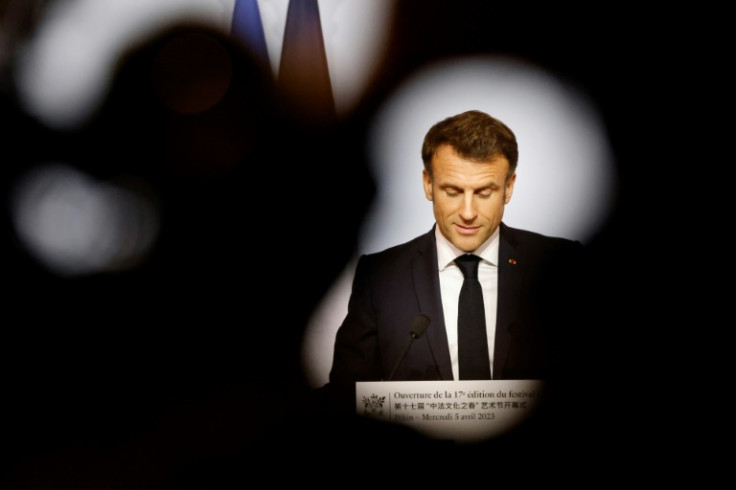 French and EU leaders will on Thursday seek to make Europe's case for bringing an end to the conflict in Ukraine in a Beijing meeting with Xi Jinping, a close ally of Vladimir Putin.
French President Emmanuel Macron and European Commission chief Ursula von der Leyen will be greeted late afternoon by the Chinese president at the Great Hall of the People, the heart of power in the capital.
Western pressure is mounting on China to take a more active role in the peace process in Ukraine -- though Beijing is officially neutral, Xi has never condemned the Russian invasion.
While he recently went to Moscow to reaffirm his alliance with Putin -- framed as an anti-Western front -- Xi has not even spoken on the phone with Ukrainian President Volodymyr Zelensky.
Macron, who arrived in Beijing on Wednesday afternoon for a three-day state visit, said he wants to "be a voice that unites Europe" over Ukraine, and that coming to China with von der Leyen serves to "underline the consistency of this approach".
On Wednesday, Macron said Beijing had a "major role" to play in finding a path to peace in Ukraine, welcoming China's claimed "willingness to commit to a resolution" of the conflict.
Von der Leyen issued a sterner warning last week in Brussels, saying: "How China continues to interact with Putin's war will be a determining factor for EU-China relations going forward."
Macron will be received in the morning by Chinese Premier Li Qiang and then by the head of China's top legislative body Zhao Leji, before a one-to-one meeting with Xi in the afternoon.
The pair will then give statements to the press, followed by a trilateral meeting with von der Leyen and, finally, a state dinner.
This visit comes in the face of mounting Chinese pressure on Taiwan, with the island's President Tsai Ing-wen meeting in California with US House Speaker Kevin McCarthy.
Tsai said the talks showed her island was "not isolated" on the international stage.
But Beijing balks at any official contact between Taipei and the rest of the world, insisting there is only "one China" and warning of a strong response.
"In response to the seriously erroneous acts of collusion between the United States and Taiwan, China will take resolute and effective measures to safeguard national sovereignty and territorial integrity," the foreign ministry said.
© Copyright AFP 2023. All rights reserved.