Liberated Villages Offer Glimpse Of Precarious Ukrainian Health System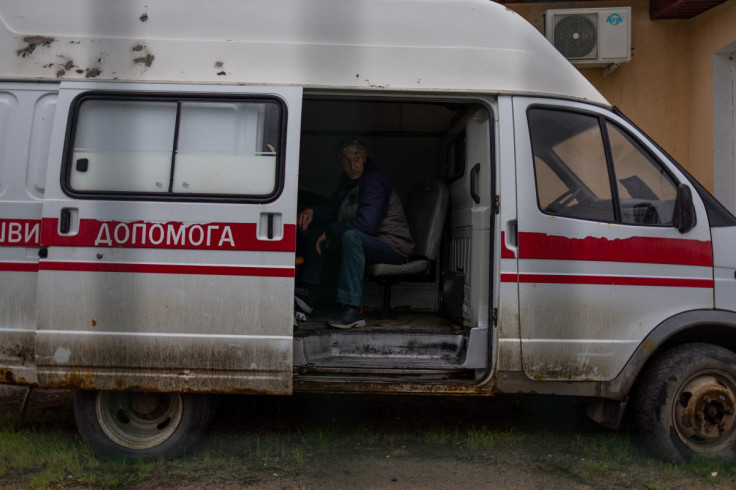 Doctor Oleg Marchenko never knows what he will find when he visits villages retaken by Ukrainian forces in the east of the country last autumn. Mines lie scattered around and often there are no medical facilities left.
He can be certain of one thing, however: many patients he meets will be suffering from high blood pressure after living for months under Russian occupation near the frontlines.
Marchenko, 54, operates a mobile clinic that provides a lifeline for people in villages who remained, or were unable to leave, when the Russians came following the full-scale invasion that began in February, 2022.
Some were too old or sick to move. The health of some others who stayed is now deteriorating. Many no longer have access to a local doctor and a large number of hospitals and clinics have been destroyed by Russian shelling and air strikes.
The damage is worst in areas Russia controlled before fleeing last September, when Ukraine's military launched a lightning counteroffensive in the east. Fighting reduced whole towns to ruins, littered with mines left by retreating forces.
Marchenko's work offers insight into the dire state of healthcare provision in Ukraine after 14 months of war, and how volunteers are stepping in to do what the state is unable to.
"There were no medicines (during the Russian occupation of villages), there were no doctors who could offer help, plus the level of stress worsened everything," Marchenko said after seeing dozens of patients in the once-occupied village of Vyshneva not far from Kharkiv, Ukraine's second biggest city.
"Patients who we chat to say there was a considerable number of deaths because of the lack of medical help."
Moscow says it does not deliberately target civilians in its "special military operation" in Ukraine. Missile and drone strikes continue to damage infrastructure and homes while the civilian death toll mounts.
Ukraine's health ministry said during the full-scale invasion, Russia had destroyed 174 medical facilities and significantly damaged another 1,106, with Donetsk, Luhansk, Kharkiv, Kherson and Mykolaiv regions the worst affected.
"If we divide this figure by the number of days of war, it turns out that Russia strikes at least three medical institutions every day," Health Minister Viktor Liashko said.
In the past 12 months, 186 medical facilities have been fully restored, the ministry added. The World Health Organization estimates that the overall damage to the system could cost more than $15 billion to repair.
With the World Bank still some way from raising its target of $500 million for its health project in Ukraine, volunteers such as Marchenko and his co-workers at the International Rescue Committee aid group have stepped in to help.
But as more people return to liberated areas, a skeleton staff buttressed by volunteers will struggle to meet needs.
"It makes my head spin," said Yuliia Rodzynska, who heads a makeshift emergency care centre that was set up in the eastern Ukrainian town of Izium close to the burnt-out ruins of an outpatient hospital.
She said only 11 doctors have come back to work to serve a population of around 22,000.
General practitioners simply cannot cope with the large numbers of people asking for consultations, she told Reuters.
QUEUES OF PATIENTS
Marchenko abandoned his home in Mariupol after the southeastern city was besieged by Russian forces, and started a new life "from nothing", first in the southeastern city of Zaporizhzhia and then in Kharkiv.
In Vyshneva, about 80 km (50 miles) southeast of Kharkiv, a crowd squeezed into the village hall to see Marchenko for a range of illnesses ranging from high blood pressure to cancer. Most were elderly women.
Tetiana Cherednichenko, a 69-year-old grandmother who looks older than her years, accused the Russians of taking medicines for themselves. They would only hand them out to those villagers who welcomed them, she said.
She wept as she described having to send her disabled granddaughter away so that she could study somewhere that had electricity.
"Among them (the Russians) there were even good male nurses and I asked them for help for my granddaughter. I even asked the commander for medicines, and they never gave us any," she said.
Russia's defence ministry did not immediately respond to a request for comment.
For Vladimir Kushnir, 57, Russia's occupation meant he could not attend his yearly check-up at a Kharkiv hospital to monitor his recovery from cancer of the oesophagus.
He was part of the team that helped tackle the fire at the Chornobyl nuclear plant during the world's worst nuclear accident in 1986 and was exposed to high radiation levels.
"After the occupation began, the medicine which we had at home was soon used up... There might have been doctors (among the Russians) but I didn't try to find out ... I just didn't want to see them ... But then my health got worse and I went to (the southeastern) Dnipropetrovsk region," he said.
"Three days later, they liberated the village and I returned."
RESTORATION
Marchenko, 54, patiently listens to his new patients as he takes their blood pressure and measures the blood sugar levels of those with diabetes.
It is a world away from his former job at a hospice in Mariupol, but he hopes that he and his team of a male nurse, security adviser, driver and sometimes a psychologist, can help revive Ukraine's health system.
It's an uphill battle.
The WHO said in January that the situation was "particularly dire" in areas close to the frontline or retaken areas and the people who stayed behind have "complex needs."
Michelle Bachelet, the top UN human rights official, said last month that Russia may have committed war crimes by killing civilians and destroying hospitals in its pounding of Ukrainian cities.
Russia denies its forces have committed war crimes.
© Copyright Thomson Reuters 2023. All rights reserved.