Leaked US Documents Cast Doubt On Ukraine's Military Capacity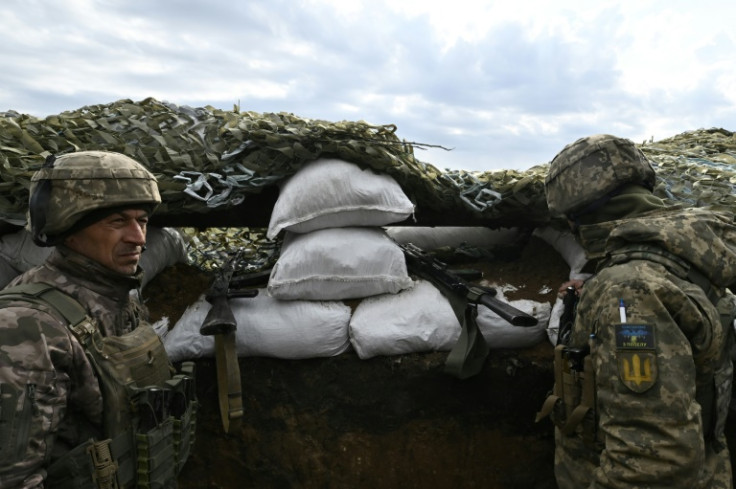 The United States has serious concerns about Ukraine's ability to make significant gains in an upcoming counteroffensive, as well as Kyiv's capacity to keep defending against Russian strikes, according to a Tuesday report and documents reviewed by AFP.
The documents are part of a trove of highly sensitive material that has been posted online, sparking a US criminal investigation into a breach the Pentagon says poses a "very serious" risk to national security.
Ukraine is expected to launch an attack on invading Russian troops in the spring -- its first major military push of the year.
But one top secret document said tough Russian defenses and "enduring Ukrainian deficiencies in training and munitions supplies probably will strain progress and exacerbate casualties during the offensive," the Washington Post reported.
A document reviewed by AFP -- this one marked "secret" -- details the dire state of Ukrainian air defenses, which have been instrumental in protecting against Russian strikes and preventing Moscow's forces from gaining control of the skies.
Ukraine's international supporters have worked to beef up the country's air defenses, providing a mix of cutting edge and older technology to create multi-layered defenses that protect against attacks at different altitudes.
But the February 2023 document -- the authenticity of which could not immediately be confirmed -- said that 89 percent of Ukrainian medium and high-range air defenses was made up of SA-10 and SA-11 Soviet-era systems that could soon run short of ammunition.
Based on munitions use at the time, the document projected that Ukraine's SA-11s would be out of missiles by late March, and its SA-10s by early May.
Ukraine's ability to provide medium-range air defenses to protect the front line "will be completely reduced by May 23," the document said.
The Post reported that another document said Egypt's President Abdel Fattah al-Sisi ordered the production of 40,000 rockets for shipment to Russia, telling officials to keep it secret to "avoid problems with the West."
White House national security spokesman John Kirby pushed back against the report.
"We've seen no indication that Egypt is providing lethal weaponry capabilities to Russia," Kirby told reporters. "Egypt is a significant security partner and remains so."
He also said that Washington is contacting allies and partners at "very high levels" in the wake of the release of the documents, which included sensitive analyses of countries with which the US has close ties.
Dozens of photographs of documents have been found on Twitter, Telegram, Discord and other sites in recent days, though some may have circulated online for weeks, if not months, before they began to receive media attention.
Many of the documents are no longer available on the sites where they first appeared, and the United States is reportedly working to have them removed.
The fallout from the apparent leak could be significant -- even deadly -- potentially putting US intelligence sources at risk, while giving the country's foes valuable information.
© Copyright AFP 2023. All rights reserved.