Kenya's Ruto Urges Opponent To Cancel Street Protests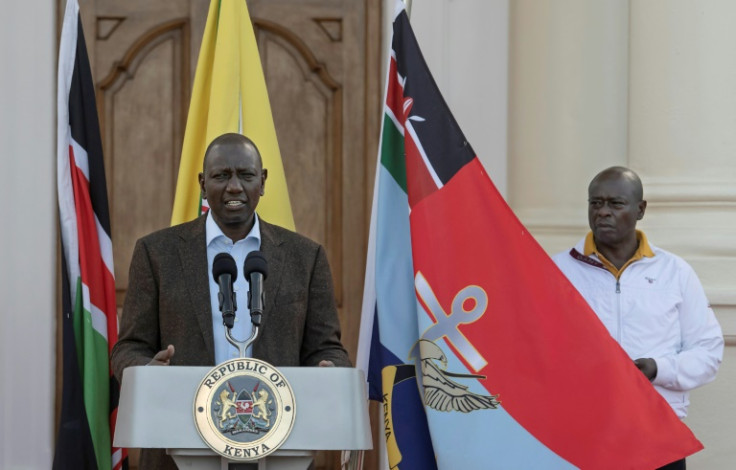 Kenyan President William Ruto urged his political rival on Sunday to call off protests against his government as the opposition vowed to take demonstrators to the street for another day.
Three people have died since anti-government protests erupted on March 20 and businesses have been looted, property vandalised, and journalists attacked in unrest that has alarmed Kenya's neighbours and allies.
Opposition leader Raila Odinga has called for protests every Monday and Thursday, accusing Ruto of stealing last year's election and of failing to control the surging cost of living.
On the eve of a fourth day of protests -- dubbed "Mega Monday" by the opposition -- Ruto called for calm and urged Odinga to cancel his planned action.
"I urge my brother Raila Odinga, and the opposition, to call off the demonstrations, and to give this bipartisan approach a chance for us to take the country forward," Ruto said in a nationwide address from State House.
"Meanwhile, I call on all Kenyans to remain peaceful and law-abiding and I assure them that the Government of Kenya will continue with its sacred duty of protecting their lives and their property, including their businesses."
Kenya's Supreme Court unanimously upheld the results of August's elections that declared Ruto president but Odinga insists the poll was stolen, and released fresh claims this weekend that he says prove he won.
The opposition stalwart has refused to recognise Ruto or his government and on Saturday called on the president to "vacate his office" ahead of Monday's protest.
Ruto said a bipartisan parliamentary committee could explore possible reforms to electoral procedure, and urged his rival to seize this opportunity.
But he ruled out striking an alliance of any kind with his foe.
"Once you compromise accountability and oversight, you are in for a lot of trouble," Ruto said.
"Our position is that we want to engage our brothers and sisters on the other side on issues that are important to the people of Kenya... That way the system of checks and balances remains intact."
Kenya is viewed as a beacon of democratic stability in East Africa. The United States and Britain, among other foreign missions, have publicly called for restraint.
The African Union has also appealed for a peaceful end to the chaos that saw riot police firing tear gas and water cannon at protesters, and places of worship, properties, businesses and cars set aflame.
Meanwhile, at least 25 cases of attacks on journalists "at the hands of state and non-state actors" have been reported during the demonstrations, according to the Media Council of Kenya.
The United States said Friday said it was "deeply concerned" by the reports.
© Copyright AFP 2023. All rights reserved.