Israelis March Against Budget 'Looting' For Ultra-Orthodox Jews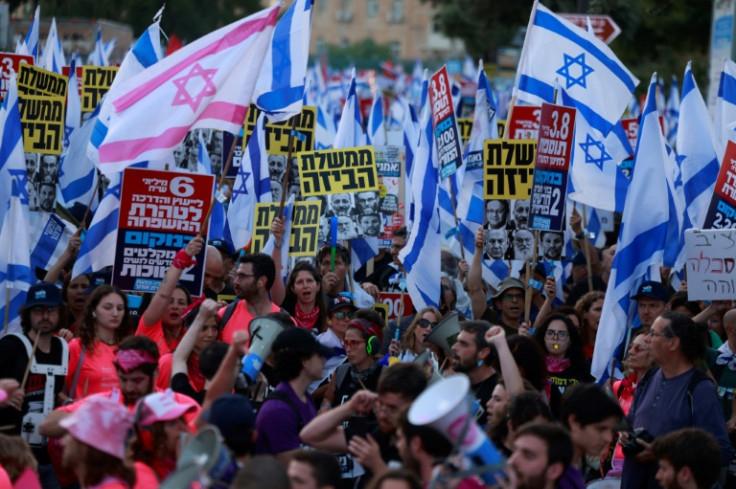 Thousands of Israelis on Tuesday protested the allocation of funds to ultra-Orthodox Jews in the government's proposed state budget.
Ahead of the budget votes beginning late Tuesday and continuing Wednesday, the drum-beating protesters, bearing Israeli flags, marched through Jerusalem to parliament, accusing the ruling coalition of "looting" the state's money.
Prime Minister Benjamin Netanyahu, already the country's longest-serving premier, took power again in December in a coalition with extreme right and ultra-Orthodox Jewish parties.
On Monday, Netanyahu announced the state would grant married ultra-Orthodox Jewish men engaged in religious study rather than work a total of 250 million shekels ($67.5 million). The grant was part of a last-minute deal with United Torah Judaism, one of the ultra-Orthodox coalition parties, to ensure their support for the budget.
It is in addition to other allocations traditionally made to ultra-Orthodox communities in various ministerial budget allocations.
The demonstration was organised by the same group of activists who have been protesting since January the government's judicial reform plans which they view as a threat to democracy.
Those weekly protests have continued, drawing tens of thousands, even after Netanyahu on March 27 announced a "pause" to allow for talks on the reforms which were moving through parliament and split the nation.
The reforms, to curtail the powers of the Supreme Court and give politicians greater powers over the selection of judges, had sparked fears in Israel's hi-tech and financial sectors that foreign investors would be scared away.
Opposition head Yair Lapid said the budget was "destructive" as it included monies to ultra-Orthodox Jews that discourage them from taking a more active part in Israeli economy.
"This is a budget that encourages people to not pursue higher education, not work, not provide for their children," he said, lamenting that it contained "no growth engines, no remedy for the high cost of living, only endless extortion."
Netanyahu pledged that parliament would approve the fiscal budget.
"We are approving a responsible budget, a budget that keeps the fiscal framework, a budget that is being praised by rating agencies," Netanyahu told his coalition partners.
Asher Blass, a professor of economics at Ashkelon Academic College, said that with inflation and interest rates rising, and a weaker shekel, Israel needed more budget "growth engines" rather than "transfer payments" to ultra-Orthodox institutions that effectively discourage higher education.
But he told AFP the projected budget deficit is not as bad as in some previous years, though "the trajectory is not good."
In February the Bank of Israel estimated the budget deficit would be close to one percent of gross domestic product in 2023 and 2024.
© Copyright AFP 2023. All rights reserved.