Hundreds Of South Africans Tie The Knot In Easter Mass Wedding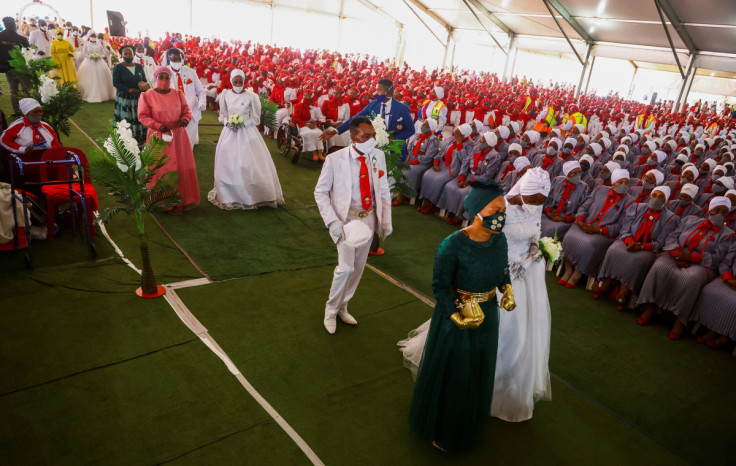 More than 800 couples walked down the aisle on Easter Sunday in one of the biggest mass wedding ceremonies in South Africa since the COVID-19 pandemic.
The International Pentecost Holiness Church blesses polygamous unions, which are common in some African communities, and the church says are authorised by the Bible.
Its mass nuptials take place three times a year - at Easter, in December, and also during the celebrations in September of the church's founding in 1962.
Lebogile Mamatela, 38, a government employee who became the second wife to the father of her child on Sunday, told Reuters after the ceremony: "It's a special day, I am very happy. I really, really appreciate this moment of being part of the Mahluku family. It's a great feeling."
Her new husband, Roto Mahluku, 40, joined the church in 1993 and married his first wife, Ditopa Mahluku, 16 years ago. They have three children.
Ditopa, 37, said her husband's second marriage was "fulfilling what God has created for us, fulfilling the scripture that says women will be leaning towards one man".
Current wives wore colourful attire to the ceremony at the International Pentecost Holiness Church's Jerusalem congregation, 100 kilometers (62 miles) north of Johannesburg. First-time brides wore traditional white dresses.
The celebrations were a respite from a long-standing row over the leadership of the church, which has a membership of around three million, making it one of the biggest congregations in South Africa.
The succession battle between three brothers began after the death in 2016 of the church's leader, Glayton Modise.
In 2020 five people were killed in a shooting at another congregation of the church, but a court last year dismissed the case against the 42 accused.
Security was tight at Sunday's ceremony, which was policed by armed guards and metal detectors were used to screen the congregation.
© Copyright Thomson Reuters 2023. All rights reserved.