Grisly S.Africa Jailbreak Puts Celebrity Doctor In Spotlight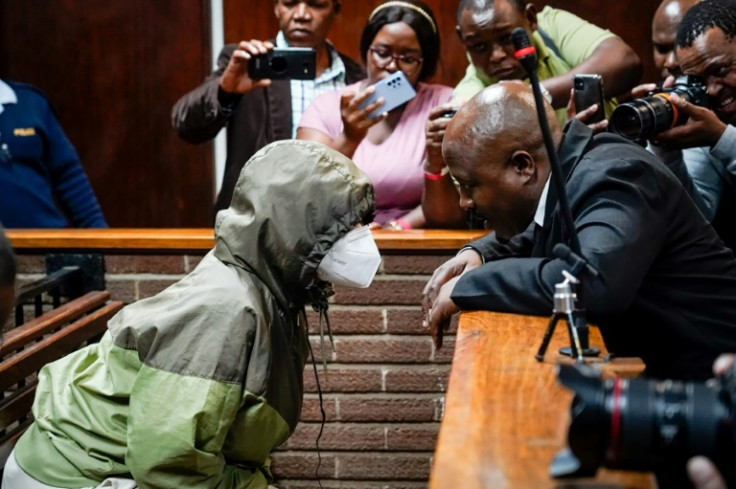 As one of South Africa's most famous doctors, Nandipha Magudumana is used to being the talk of the town -- but these days, it's on suspicion that she helped her lover, a convicted murderer, escape from jail by burning someone else's body.
Magudumana appeared in court Monday after the runaway couple was arrested while trying to flee in Tanzania -- the culmination of a dragnet that has dominated the headlines.
Ensconced in a light-blue hoodie and a face mask, the 34-year-old revealed her face only when ordered to by a judge as her lawyers made a bail request.
She was then remanded into custody as the hearing was adjourned, shuffling in chains around her ankles above peach-coloured Nike sneakers.
Her appearance was the latest chapter in a saga that has gripped the country since police admitted nearly a year ago that Magudumana's alleged lover, Thabo Bester, had broken out of prison.
Authorities had believed that Bester, dubbed the "Facebook Rapist," had set himself alight in his cell at a privately-run prison in Bloemfontein in May 2022.
But in March, police said DNA tests proved that Bester had faked his death to make a spectacular jailbreak that has triggered a parliamentary inquiry and accusations of lax controls and complicity.
But it is Magudumana's plunge from high-flying doctor to fugitive that has captivated the country and deepened the embarrassment for the authorities.
For years the mother of two ran a tony clinic specialising in skin care and other cosmetic treatments in Johannesburg's upmarket neighbourhood of Sandton.
Her widely followed Instagram account was filled with pictures of her with celebrity clients, and Magudumana was hailed as a role model for young South Africans at women's empowerment events.
But after meeting Bester -- details of how they came into contact remain obscure -- Magudumana allegedly left her children behind to help his escape.
She now faces charges of assisting an inmate to escape, harbouring a prisoner, violation of a corpse and fraud.
She will enter a plea once the trial begins, though no date has yet been set. She is due to appear in court again on May 3 for the decision on her request for bail.
Bester had been sentenced to life in prison in 2012 for luring victims on Facebook and then raping and robbing them, killing at least one person.
Prison officials believed he had set himself on fire in his cell -- but doubts emerged last October after reports in the local investigative media GroundUp, fuelling a surge in public pressure.
Some reports have since claimed that even before his escape, Bester would sneak out of prison and meet with Magudumana at a five-star hotel for romantic escapades.
Before fleeing abroad, the couple is thought to have lived in a villa in an affluent Johannesburg suburb that police raided earlier this month, with some media photos allegedly showing him buying groceries.
Since the revelation of his escape, some women have come forward alleging Bester made contact with them on social media.
Bester and Magudumana were eventually arrested in the Tanzanian city of Arusha, possibly trying to make their way to Kenya along with another suspected accomplice.
Police said the suspects were in possession of several unstamped passports.
Four other suspects have also been arrested in connection with the escape plot, including Magudumana's father, Zolile Sekeleni.
Sekeleni is suspected of aiding the prison break, although prosecutors have dropped a murder charge in connection with the man found dead in Bester's cell -- whose identity is still unknown.
He appeared by his daughter's side in court on Monday and was granted bail.
Media reports have allegedly linked Magudumana to the disappearance of several bodies from a mortuary.
© Copyright AFP 2023. All rights reserved.