Ghana Opposition Chooses Ex-president Mahama For 2024 Race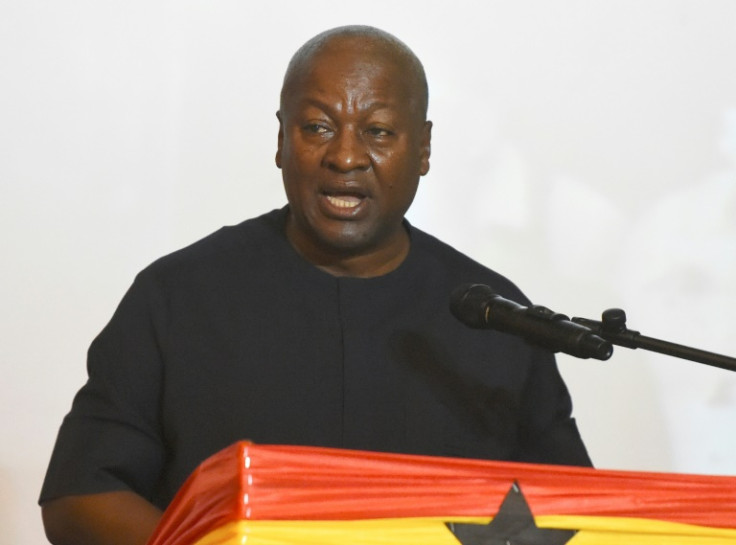 Ghana's largest opposition party chose the country's ex-president John Dramani Mahama as its flagbearer Sunday for the 2024 presidential election.
Delegates of the National Democratic Congress (NDC) voted in primaries on Saturday through Sunday to choose a candidate for both the presidential and parliamentary polls.
Mahama was declared the overwhelming winner after polling 297,603, or 98.9 percent, of the votes while his challenger former Kumasi mayor Kojo Bonsu scored 3,181, or 1.1 percent.
The primaries come as Ghana holds talks with the International Monetary Fund (IMF) over a $3 billion bailout to help overcome an economic crisis, and as it faces a growing jihadist threat from a conflict in neighbouring Burkina Faso.
On Saturday, more than 355,000 NDC party delegates converged at 401 voting centres across the country for the ballot.
Despite defeats in 2016 and 2020 elections by incumbent President Nana Akufo-Addo, 64-year-old Mahama had been eyeing a return and had faced off with former central bank governor Kwabena Duffuor and Bonsu.
But Duffuor withdrew from the race late on Friday, saying the party was not ready to conduct a "free and fair election".
Mahama had already been tipped by most political analysts to win the primary, based on his experience and influence in the opposition party.
"He has been tried and tested and comes with a lot of experience," Kwame Asah-Asante, a political science lecturer at the University of Ghana, told AFP.
"Mahama is the most marketable candidate in the party now. I don't see the delegates voting against him. The party stands a better chance of returning to power with Mahama than any other candidate."
Duffuor, also a former finance minister, has a large base in the Ashanti Region -- the stronghold of the governing New Patriotic Party (NPP).
He had reversed his decision earlier on Friday to place a court injunction on the primary race after expressing reservations about discrepancies in the electoral roll.
The 80-year-old's campaign message had centred on hope for Ghanaians.
But later the same day he pulled out of the race.
"I wish to reiterate my commitment to the party and its grassroots. However, my concerns that the party is not ready to conduct free and fair election is evident for all to see," he said in a statement.
"Taking part in such would be akin to knowingly drinking from a poisoned calabash."
The ruling New Patriotic Party will hold its own primaries in November 2023 while the presidential election is scheduled for December 7 next year.
Mahama will likely look to capitalise on the economic crisis facing the West African country in the presidential campaign.
Ghana, a major exporter of cocoa and gold, has defaulted on its external debts including eurobonds, and is in talks with the IMF for a $3 billion line of credit to strengthen the economy.
Once seen as an investors' favourite, Ghana has recently struggled with its debt load. The government spends more than half of its revenues on debt servicing.
Ghana, along with coastal West African neighbours Benin, Togo and Ivory Coast, is also bracing for growing spillover from jihadist conflict over northern borders in Burkina Faso, where Islamist militants control large swathes of territory.
© Copyright AFP 2023. All rights reserved.