G7 To Press Russia, Weigh Risk Of China's 'Economic Coercion'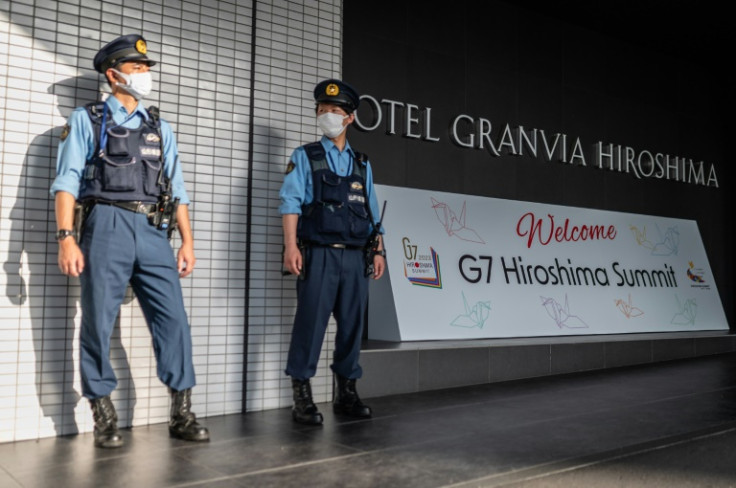 G7 leaders arrive Thursday in Japan's Hiroshima to weigh tighter sanctions on Russia and protections against China's "economic coercion", surrounded by reminders about the harrowing cost of war.
Japanese Prime Minister Fumio Kishida will host leaders from six other wealthy democracies in his hometown -- a city synonymous with nuclear destruction now peppered with peace monuments.
Over three days, leaders including US President Joe Biden will try to forge a united front on Russia, China and a host of other pressing issues where the allies' interests do not always neatly align.
Biden's Asia-Pacific diplomatic offensive hit a bump even before Air Force One was wheels up: a domestic budget row forced him to cancel stops in Papua New Guinea and Australia.
When the G7 gets under way, Russia's 15-month-old invasion of Ukraine will top the agenda, after a long winter of grinding warfare in Bakhmut and other frontline towns.
"There will be discussions about the state of play on the battlefield," said US National Security Advisor Jake Sullivan.
The United States and its allies have poured weaponry into Ukraine to help its defence, but a long-anticipated spring counteroffensive by Kyiv's forces has yet to materialise.
Ukrainian President Volodymyr Zelensky is expected to address the group by video link.
Sullivan said leaders would focus on further deterring Russia off the battlefield -- tightening a sanctions regime that, according to official statistics, caused Russia's economy to contract a further 1.9 percent last quarter.
The G7 has already adopted price caps on Russian petroleum products, plunging revenues by about 43 percent, according to International Energy Agency figures.
But Sullivan indicated leaders may look to close loopholes that help President Vladimir Putin fund his struggling war effort.
"There'll be discussions about the state of play on sanctions and the steps that the G7 will collectively commit to on enforcement," he said.
"The US will have a package of sanctions associated with the G7 statement that will centre on this enforcement issue."
Putin's repeated threats to turn the conflict nuclear have been roundly condemned by G7 leaders and dismissed by some commentators as little more than an attempt to shake European and American resolve.
But leaders' planned visit to the Hiroshima Peace Memorial Park is likely to pull those threats into sharper focus, as they contemplate the events of August 6, 1945, which obliterated a city, claimed an estimated 140,000 lives and forever changed the world.
Kishida wants to use the summit to press his guests -- including Britain, France and the United States, who together possess thousands of warheads -- to commit to transparency on stockpiles and arsenal reductions.
But amid heightened tensions with nuclear powers Russia, North Korea and China, expectations for a breakthrough are low.
On Wednesday, scores of military and diplomatic leaders, including six former heads of state, also urged nuclear powers to set aside tensions and negotiate steps toward arms control.
"In the darkest hours of the Cold War, the Soviet Union and United States were able and willing to discuss and agree measures to reduce the risk of nuclear war" the statement read.
Summit discussions on China are expected to focus on efforts to insulate G7 economies from potential economic blackmail, by diversifying supply chains and markets.
In disputes with countries from Australia to Canada, President Xi Jinping's administration has shown a willingness to block, tax or hamper trade with little warning or explanation.
White House official Sullivan said leaders were expected to decry this "economic coercion" and work to bridge transatlantic differences about how to engage with China.
Washington has taken an aggressive approach, blocking China's access to the most advanced semiconductors and the equipment to make them, and has pressed Japan and the Netherlands to follow suit.
But European policymakers -- most notably those in Berlin and Paris -- are keen to make sure that "de-risking" does not mean shattering ties with China, one of the world's largest markets.
"This G7 is not an anti-Chinese G7," an adviser to French President Emmanuel Macron told journalists before the summit.
"We have a positive message for China, which is that we are ready to cooperate on condition that we negotiate together," the adviser added.
Host Japan is also keen to reach out to developing nations that have been wooed by Chinese investment, with leaders from India, Brazil and Indonesia among those invited by Kishida to Hiroshima.
Evidence of Beijing's growing economic and diplomatic clout will be on display Thursday in the former imperial capital Xi'an.
There, Xi will host the leaders of the five Central Asian countries, once seen as firmly in Moscow's orbit but increasingly drawn to Beijing.
© Copyright AFP 2023. All rights reserved.