Ex-follower Of Kenya Cult Leader Digs For Victims' Bodies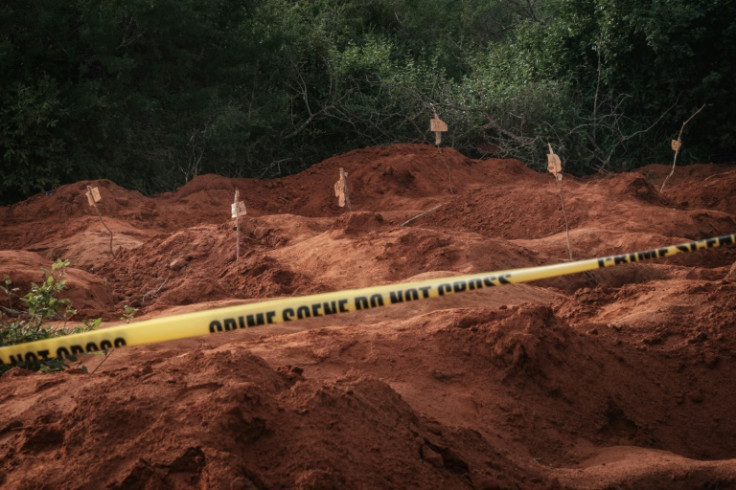 His forehead beaded with sweat, Titus Katana has been digging for days to find the remains of victims of a Kenyan starvation cult that once counted him as a follower.
The discovery of mass graves in Shakahola forest near the coastal town of Malindi last week shocked Kenyans, with the government warning that the death toll -- currently at 109 -- could rise even further.
"We used to worship together," Katana told AFP as he recalled his years in the Good News International Church founded by self-styled pastor Paul Mackenzie Nthenge, who allegedly told his flock to starve to death to find God.
Katana said he knew Nthenge well and even preached sermons alongside him at one point.
But, he said, he then left the church due to differences over new restrictions pushed by the former taxi driver-turned-pastor.
"It came to a point where too many laws were introduced in that church -- asking women not to braid their hair, (saying) people should not go to hospital, people should not go to school," the 39-year-old said.
"All those were way too much for me, thus I had no option but to separate and find another church."
Nthenge's screeds even attracted the attention of police, who arrested him in 2017 on charges of "radicalisation" after he urged children not to attend school, claiming that it was against the Bible.
He was acquitted but arrested again in 2019 over charges that included the possession of films intended to incite Christians against Hindus, Buddhists and Muslims. The case is still being heard.
Despite the controversies attached to his name however, he was allowed to continue preaching, with his sermons taking on an increasingly apocalyptic tone, according to the rights group Haki Africa, which tipped off the police to his activities in Shakahola.
Katana told AFP he couldn't recall when he left the church, but said he heard about Nthenge's plans from a friend who was a member.
"I don't really know what got into him," he said about Nthenge, who is in police custody ahead of a court hearing scheduled for next Tuesday.
Devotees sold "their property, houses, factories because they were coming to the 'wilderness' to wait for Jesus in Shakahola forest," Katana said.
According to the "fasting schedule" his friend shared with him, the plan was for children and single people to starve first, followed by women and then men, he said.
"Mackenzie and his family would go last," he added, sketching out a timeline that appears to be supported by the fact that children account for more than half the corpses found so far, according to three sources close to the investigation.
As he turned over the red soil, Katana said he was deeply saddened by the gruesome saga, which has been dubbed the "Shakahola Forest Massacre".
"We felt like we saw God in that church," the daily wage labourer said.
Investigators have found 39 survivors in the bush, some refusing the food and water offered by the emergency services and others fleeing from rescuers.
But Katana, who has gone to the forest every day to assist the search teams, has little hope of finding anyone he knew alive.
"I feel bad for what has happened to those people because many of them are people I have met", he said.
"And they are now dead."
© Copyright AFP 2023. All rights reserved.