'Cool Drink' Is Code For Cash In Graft-ridden S.Africa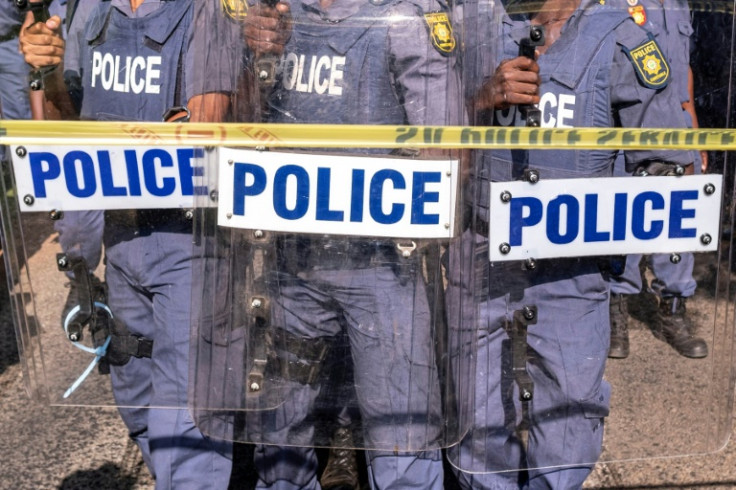 Casually leaning into the side-window of a car stopped at a routine checkpoint on a congested Johannesburg road, a South African policeman tells the driver he needs "a cool drink".
The sun is shining but it's not really refreshment that the officer is after.
As most South Africans know all too well, a cool drink is code for bribe money in these parts.
"So what do we do?" asks the policeman, chewing gum under a blue cap sporting the South African Police Services logo, while spinning a set of keys around his finger.
Across the road, the number for an "anti-corruption hotline" is emblazoned on the side of a parked police van.
Shakedowns are fairly common across the continent.
A 2019 Transparency International survey found one in four Africans reported having paid a bribe in the previous year.
Almost half of the 47,000 people interviewed thought most or all police are corrupt.
South Africa is no exception. In a country with one of the highest crime rates in the world, police have a reputation for being as ineffective as corrupt.
Low pay does not seem to be the issue.
Constables earned up to 213,000 rand ($11,000) a year in 2018 and warrant officers could make almost twice as much -- a decent salary in a country where more than one in three people are unemployed, according to the Institute for Security Studies, an African think tank.
"It's simply opportunistic tendencies from some people wanting more," an officer with the local watchdog, Independent Police Investigative Directorate, told AFP on condition of anonymity.
Corrupt officers are equitable in their extortionary efforts -- targeting poor and wealthy business districts alike.
Bribes can go from a few dozen to a few hundred rand.
Lwando, a 25-year-old Uber driver who spends most of his time on the roads of South Africa's business capital, says the amount depends on "the greed of the cop".
The Johannesburg driver, a 40-year-old French woman, managed to talk her way out of the impasse.
After being held for almost an hour, she was let go without having to quench the officer's thirst for alleged speeding.
Drivers are more likely to be asked for a drink towards the end of the working week, according to Lwando, who preferred not to give his full name.
"They want money for the weekend. They want to drink," he says.
In turn, motorists can expect some leniency. "Even when they see you can't drive because you're drunk, as long as you have money you're safe, they let you go," he alleged.
Police set up about 100 roadblocks a day, totalling more than 36,000 across the country in the 2021-2022 fiscal year, according to a latest police report.
Over the same period, 160 cases of fraud and corruption involving police officers were reported to the authorities, official figures say.
Yet, most people are unlikely to report a shakedown and the problem seems to be getting worse.
A 2021 survey by pollster Afrobarometer found that South Africans' trust in the police was at "historically low levels", with three in four respondents saying they had no confidence in law enforcement, up from one in two in 2011.
Many reported having had to pay a bribe to receive assistance from the police or to avoid a problem with them.
Cool drinks undermine public trust in law enforcement, threatening to "bring the whole organisation and all of its members down", complains a senior policewoman, who also preferred to remain anonymous.
South Africa ranked 72nd out of 180 countries in Transparency International's 2022 global corruption perception index, flanked by Senegal and Burkina Faso. Denmark came top and Somalia last.
Police spokeswoman Brenda Muridili says all graft allegations are promptly investigated.
"Even if there's one or two rotten members in our ranks, the majority of officers are hardworking," she says.
© Copyright AFP 2023. All rights reserved.