'Chaotic For A While' At US Border As Rules Change: Biden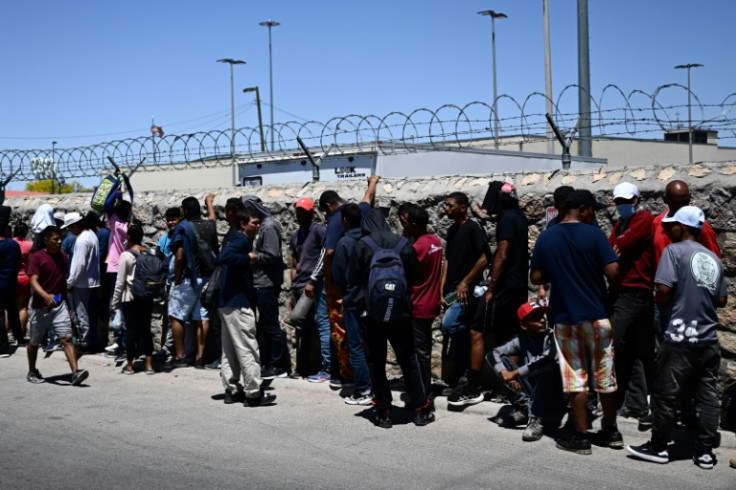 The US border with Mexico will be "chaotic for a while," President Joe Biden acknowledged Tuesday, days before the lifting of pandemic-era rules that have made claiming asylum at the frontier all but impossible.
Tens of thousands of people are massing at border crossing points awaiting the expiration of so-called Title 42 overnight Thursday into Friday.
Thousands have already entered the United States, squeezing through the holes that pockmark the division between the world's wealthiest country and its poorer neighbor, and a spike in asylum claims is expected.
The Texan cities of El Paso, Brownsville and Laredo have declared a state of emergency as they struggle to cope with hundreds of people -- most from Latin America, some from China, Russia and Turkey -- who are already there.
Asked if the United States was ready for a surge in crossings, Biden told reporters: "It remains to be seen. It's going to be chaotic for a while."
The Title 42 rules were put in place in the early days of the Covid-19 pandemic, when Donald Trump was president, ostensibly to prevent people with the virus from entering the country.
In practice, it has been little more than a crude tool to swiftly expel those trying to migrate.
From Friday, migrants will once again be able to lodge asylum claims and have their cases dealt with through the legal system, a process that can take years.
Biden's opponents in the Republican Party have hammered the veteran Democrat over his border policy, which they say amounts to throwing open the doors, with dire forecasts that more than a million people could arrive in the next three months, overwhelming an already-stretched system.
Biden has ordered 1,500 active duty troops to the frontier, where they are expected to assist border patrol agents with the processing of applicants.
With a presidential election 18 months away and immigration a regular fault line in the country's fractious politics, Biden is hoping new rules -- and the influx of troops -- will help staunch that flow.
Texas Governor Greg Abbott on Monday lashed out at the president, accusing him of "laying down the welcome mat."
The Republican said he was sending members of the Texas National Guard to "hotspots all along the border to help intercept and repel large groups of migrants trying to enter Texas illegally."
Some of those troops were visible Tuesday at the border in El Paso, across from Mexico's Ciudad Juarez.
Hundreds of migrants who had already crossed into the United States -- many of them Venezuelans -- were queueing in El Paso to hand themselves in to border patrol agents.
Those fleeing the dysfunctional South American country previously had a carve-out from the Title 42 rules, and were still able to claim asylum.
They fear that once the measure lapses, they will be stuck in Mexico, unable to reverse the difficult journey back to a hostile homeland, and living without money at the mercy of human traffickers.
"I waited for four months trying to lodge my request, but I was ignored," said Gleidys Losada.
"All the people I knew were crossing through the gaps. I was left behind, and I decided I couldn't wait any longer."
Lopez has spent the last four nights outside Sacred Heart Church in downtown El Paso, which has become a gathering point for thousands of migrants.
They huddle there, dependent on charity and hoping to somehow be able to scrabble together enough money to get them to cities across the United States, where they may have friends or family waiting for them.
Mexican President Andres Manuel Lopez Obrador held an hour-long call with Biden on Tuesday, during which they discussed immigration and the need for economic development of Latin America.
"We reaffirmed our commitment to continue working together on issues such as migration with a human dimension, drug and arms trafficking and, above all, cooperation for the well-being of the poorest peoples of our continent," Lopez Obrador tweeted afterward.
Several migrants told AFP that no upcoming border policy change will dissuade them from trying to make a new home in the United States.
"They can throw Title 42 and all these rules at us, but migration is not going to end. We are going to keep coming because we are hungry," said Eibor Tovar, a 34-year-old Venezuelan.
"When you are hungry, when you are repressed by a dictatorship, you do whatever it takes to seek a better life."
© Copyright AFP 2023. All rights reserved.