Canada Vows More Military Aid For Ukraine As PM's Website Hacked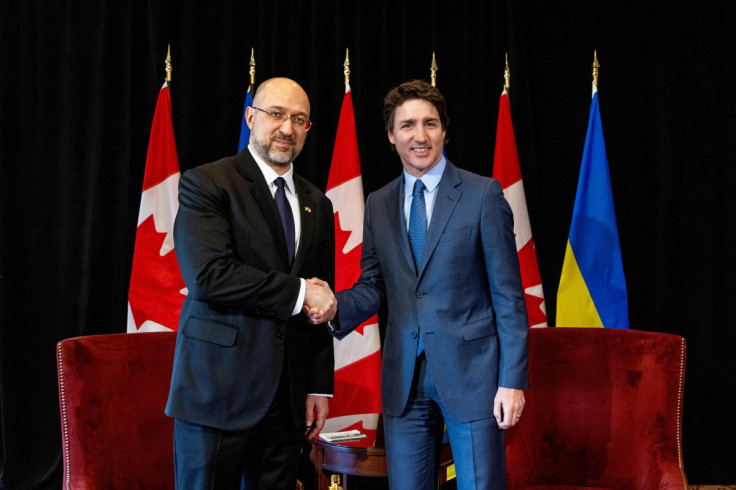 Canada on Tuesday imposed new sanctions over Russia's invasion in Ukraine and pledged fresh military support for Kyiv after Prime Minister Justin Trudeau met Ukrainian Prime Minister Denys Shmyhal in Toronto.
As the two met, Trudeau's official website was shut down and the Canadian spy service acknowledged "some" other government pages had also been offline.
Canada will send 21,000 assault rifles, 38 machine guns and 2.4 million rounds of ammunition, while the new sanctions will target 14 Russian individuals and 34 entities.
Trudeau said Canada was also imposing sanctions on nine entities tied to the Belarusian financial sector to further pressure Russia's "enablers in Belarus."
Russia calls its actions Ukraine a "special military operation" to combat what it describes as a security threat.
"We will continue to support Ukraine with everything needed for as long as necessary," Trudeau said.
"Ukraine feels the colossal support of Canada in every area ... and we really appreciate it," said Shmyhal, the highest ranking Ukrainian to visit Canada since the start of the war.
Oleg Stepanov, Russia's ambassador to Canada, dismissed what he called this "absurd sanctions nonsense" and said the measures were a token gesture, Tass news agency said.
"There will be no consequences for our citizens and companies," Tass quoted him as saying.
Trudeau and Shmyhal discussed a range of subjects including further military support and reconstruction efforts in Ukraine, before signing a joint declaration to modernize trade.
The prime minister's official website on Tuesday morning showed a "service is unavailable" error when checked by Reuters. Trudeau said the cyber attacks were an "unsurprising" act by Russian hackers.
"We are aware of reports that some Government of Canada websites have been offline," a spokesperson for Canada's Communications Security Establishment (CSE) said in a statement, and echoed Trudeau's comment that it not an uncommon occurrence in countries hosting visits by Ukrainian government officials.
"While these incidents draw attention, they have very little impact on the systems affected," the CSE spokesperson said.
Canada has been one of the most vocal supporters of Ukraine and has committed more than C$8 billion ($5.94 billion) in financial, military, humanitarian and other assistance since January 2022, just before the February invasion.
($1 = 1.3471 Canadian dollars)
© Copyright Thomson Reuters 2023. All rights reserved.