BRICS Leaders To Debate Expanding Membership At Summit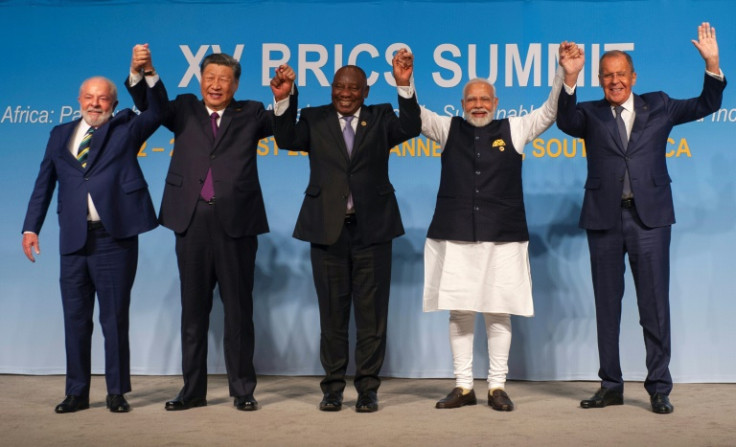 BRICS leaders on Wednesday will debate admitting new members to their five-nation bloc as it pursues a bigger role in shaping world affairs it sees as dominated by western powers.
China is seeking to rapidly grow the club of large emerging economies amid rising competition with the United States, and more than 40 nations are lining up to join.
But the BRICS other major power, India, is wary of rushing to expand and the divisive issue tops the agenda as it discusses its future at a three-day summit in Johannesburg.
The BRICS nations -- Brazil, Russia, India, China and South Africa -- represent 40 percent of the world's population and a quarter of the global economy.
A disparate association of big and small economies, democratic and authoritarian states, the BRICS share a common vision for an alternative to the Western-led world order that better serves developing nations.
"The world is changing," said South African President Cyril Ramaphosa at the opening of the plenary session of the BRICS on Wednesday.
"New realities call for a fundamental reform of the institutions of global governance so that they may be more representative and better able to respond to the challenges that confront humanity."
The other BRICS leaders of Brazil, India and China are also present for the summit, which is being attended by 50 other heads of state and government.
Russian President Vladimir Putin, who faces an international arrest warrant over alleged war crimes in Ukraine, did not attend in person and addressed the summit via video link.
Chinese President Xi Jinping told delegates on Monday that the "course of history will be shaped by the choices we make".
But the head of the BRICS most powerful state said the summit was "not an exercise of asking countries to take sides, nor an exercise of creating bloc confrontation".
"Rather, it is an endeavour to expand the architecture of peace and development," Xi said in remarks delivered on his behalf by his Commerce Minister Wang Wentao.
The US has said it does not see BRICS, which was created in 2009 and expanded to include South Africa the following year, evolving into a geopolitical rival.
The gathering has underlined divisions with the West over the war in Ukraine, and the support Russia enjoys from its other BRICS partners at a time of global isolation.
South Africa, China and India have not condemned Russia's invasion while Brazil has refused to join Western nations in sending arms to Ukraine or imposing sanctions on Moscow.
China is the BRICS most powerful economy and Xi's state visit to South Africa, just his second international trip this year, comes as Beijing pushes to rapidly expand the group's membership.
Officials say nearly two dozen nations have formally applied to join the bloc from across the "Global South" -- a broad term referring to nations outside the West.
Like the BRICS themselves, these countries are varied in size and economic clout, but include traditionally non-aligned nations like Indonesia and others like Iran that are openly hostile to the United States and its allies.
BRICS leaders say this reflects the growing appeal of its message.
But the issue divides China and its regional rival India, presenting challenges for a forum that operates on a consensus basis.
New Delhi is wary of Beijing shaping the forum to suit its own geopolitical agenda.
Russia and South Africa back expansion while Brazil's President Luiz Inacio Lula da Silva, has said he supports the entry of Argentina.
"I know that as BRICS leaders you are discussing this matter, and giving close attention to it, and you will need to make your decisions known," said Ramaphosa.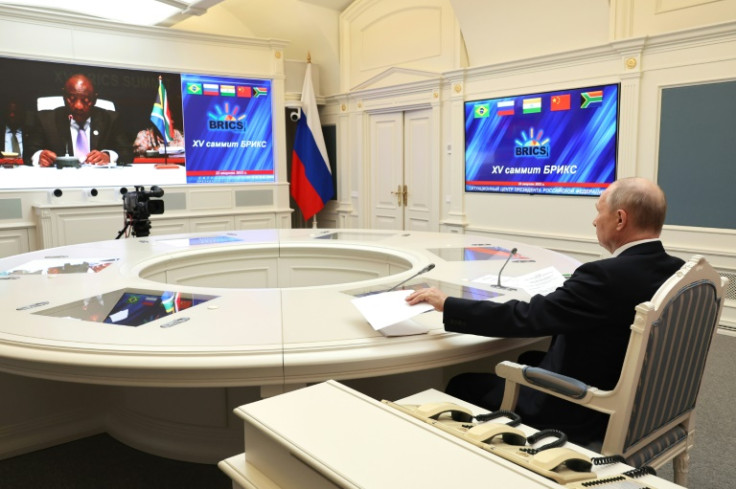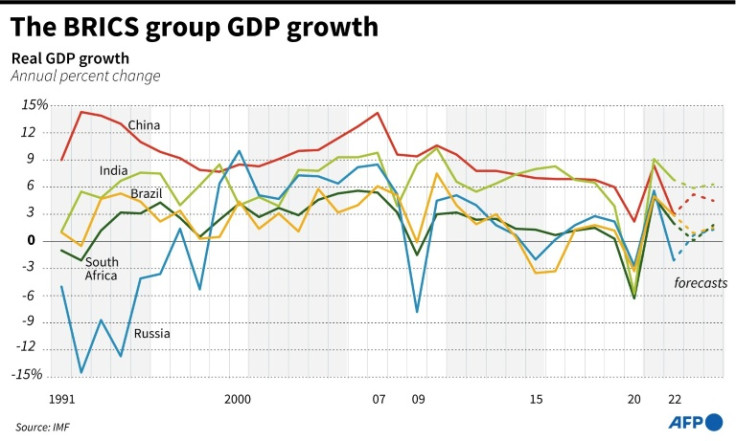 © Copyright AFP 2023. All rights reserved.