Brazil's Lula Raises Russia War Mediation With China, UAE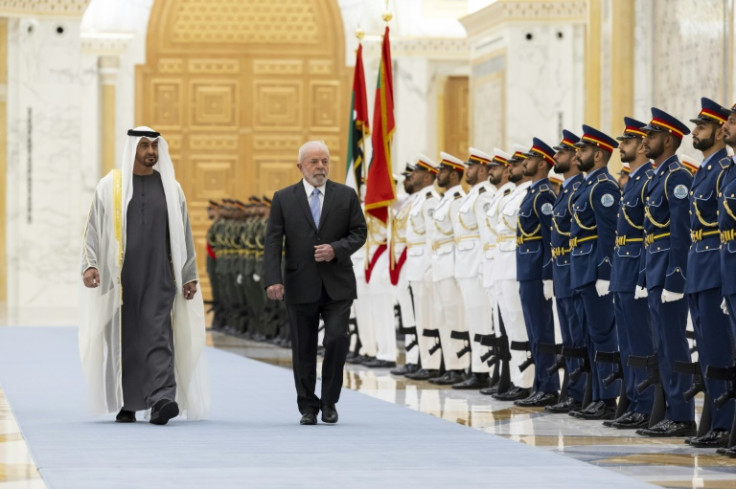 Brazil's president on Sunday said he had discussed joint mediation for Russia's war in Ukraine with China and the United Arab Emirates, accusing the United States and Europe of prolonging the conflict.
President Luiz Inacio Lula da Silva, who was wrapping up an official visit to China and the UAE after returning for a third term in office, said the two countries and others should join a "political G20" to try to end the war.
The veteran leftist, who has faced accusations of being overly cosy with Russian President Vladimir Putin, also remarked that the war was caused "by decisions made by two countries".
"President Putin doesn't take any initiatives to stop the war. (President Volodymyr) Zelensky from Ukraine doesn't take any initiatives to stop the war," Lula, speaking through an official translator, told reporters in Abu Dhabi.
"Europe and the US continue to give their way of contribution to continue the war. So they have to sit around the table and say, 'That's enough'."
While in China, Lula accused Washington of "encouraging" the war by supplying weapons to Ukraine.
He also lashed out at the dollar's dominance in global trade, calling for a new currency for transactions between the BRICS countries -- Brazil, Russia, India, China and South Africa.
The 77-year-old said he spoke to UAE President Sheikh Mohamed bin Zayed Al Nahyan, and Chinese President Xi Jinping, about forming a group of countries to mediate, styled after the G20 group of advanced economies.
"The G20 was formed to bail out the (world) economy that was in crisis," Lula said.
"Now it's important to create another kind of G20 to end this war and establish peace. This is my intent and I think that we'll manage to have great success.
"Yesterday I talked to the sheikh about the war. I talked to Xi Jinping about the war. And I think that we're meeting a set of people that prefer to talk about peace than war. And so I think we're going to have success."
Lula said he had already discussed his initiative with US President Joe Biden, German Chancellor Olaf Scholz, French President Emmanuel Macron and the leaders of some South American countries.
Despite his comments about the US, the 77-year-old, who returned to power in January after serving two terms from 2003 to 2010, is also seeking closer ties with Washington.
His visit to China and the UAE, postponed by a bout of pneumonia, came after a meeting with US President Joe Biden in February.
Unlike Western powers, neither China nor Brazil has imposed sanctions against Moscow over Russia's February 2022 invasion of Ukraine. The UAE has maintained a neutral stance in the conflict.
Lula, who was due to fly back to Brazil early on Sunday, said his delegation had signed deals worth $10 billion in China.
Earlier, Brazil and the UAE announced a series of deals, including an investment of up to $2.5 billion for a biodiesel project by the UAE-controlled Mataripe refinery in Brazil.
The UAE will host the COP28 UN climate talks later this year, and Brazil is a candidate to host the 2025 edition.
© Copyright AFP 2023. All rights reserved.