In Bakhmut's Ruins, Ukraine Says Intensity Of Wagner Attacks Growing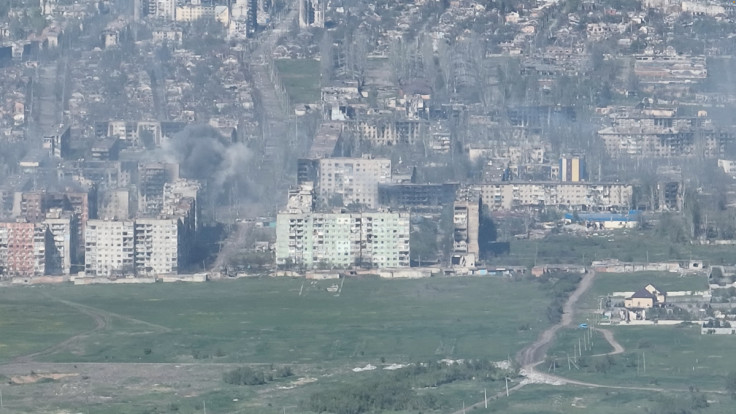 A Ukrainian brigade commander fighting in the ruins of Bakhmut said Russian mercenary forces have stepped up shelling and artillery attacks in recent days and were not facing a munitions shortage, despite its chief's claims to the contrary.
Russian mercenary boss Yevgeny Prigozhin has complained for weeks that Russia's army is depriving his Wagner troops of enough ammunition to capture the eastern Ukrainian city, where months of fierce fighting have been dubbed the "meat grinder".
Reuters has not been able to independently confirm the situation on the ground there.
Ukrainian Colonel Roman Hryshchenko, the commander of Ukraine's 127th Territorial Defence Brigade, rejected Prigozhin's claims in an interview by video link.
"They haven't had anything even close to a munitions deficit. In the last few days, the intensity of shelling and rocket artillery has increased," Hryshchenko said.
He said Russian forces were conducting constant assaults in the city - and that Ukrainian troops were beating them back.
"The situation is difficult. The enemy is throwing a great deal of its forces at us, constant waves of assaults," he told Reuters late on Wednesday.
He and the rest of his brigade have inhabited the ruins of Bakhmut for nearly two months, he said.
He messaged shortly after the interview to say the positions where had spoken from had been set ablaze by a strike.
He said Russian forces were suffering casualties several times higher than his unit, but declined to give numbers.
"(Russia) is losing a great deal of its troops... Bakhmut has already fulfilled its main task, and continues to fulfil it. Here, we are butchering the enemy's manpower," he said.
The former military prosecutor said only 30% of his brigade, which was originally recruited as a local territorial unit in March 2022 when their home city of Kharkiv was attacked, had previous combat experience but they were now seasoned soldiers.
"They (Russian forces) don't just retreat by themselves. It's a big, arduous task, and we need to work very hard to drive them out," he said. "For every metre, ten metres, section of trench, for every building, we need to try very hard."
He suggested that news from Bakhmut, of an unspecified nature, would be coming "soon", smiling but declining to expand.
"I ask everyone to have a little bit of patience, and you will see," he said.
(Editing by Tom Balmforth and Alex Richardson)
© Copyright Thomson Reuters 2023. All rights reserved.