In Africa's Fields, A Plan To Pay Fair Wages For Chocolate Withers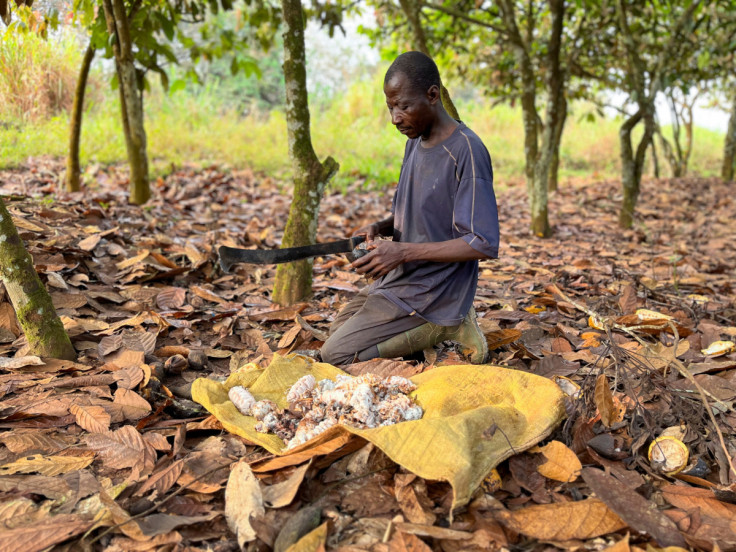 Ivorian cocoa bean farmer Edouard Kouame Kouadio expects to die poor, despite rising demand for the raw material that feeds the world's insatiable appetite for chocolate.
More chocolate than ever is eaten globally, but a flagship programme launched in 2019 that promised a living wage to growers like Kouadio in top cocoa producers Ivory Coast and Ghana has left many worse off, data and interviews with growers, traders and industry experts show.
Kouadio and more than a dozen Ivorian farmers consulted by Reuters said they were paid well below a price set by the government, itself lower than the price promised when the scheme was launched.
"The price set is not respected and we can do nothing with the amount we earn," said Kouadio, dressed in a faded tee-shirt, as he hacked back weeds on his small plot, just 29 km (18 miles) from San Pedro, the world's busiest cocoa export port.
Eleven industry experts blamed the situation on surpluses that have kept cocoa cheap globally, as well as on chocolate companies, global commodity buyers and intermediaries in the field seeking to protect margins. They cited inherent flaws in the government programme, including a lack of supply management.
The failure of the living wage scheme to boost or even protect farmer incomes is a blow to global efforts to make the production of chocolate bars more ethically sound after years of promises to purge the industry of child labour, poverty and rampant deforestation.
In the four decades Kouadio has cultivated cocoa, a proliferation of small plantations radically changed Ivory Coast, helping power a fast-growing export economy and almost completely eradicating once-abundant rainforests.
As farmers clear more land, cocoa supply has often outpaced global demand for chocolate, keeping the price for the wrinkled brown beans stubbornly low most years.
Two campaigners and a trader at a large commodity house estimated around a third of Ivory Coast's cocoa farmers were paid less than the government-set floor price despite the living wage scheme, or "Living Income Differential" (LID).
The LID has also largely failed to achieve a goal agreed with the industry for a minimum $400-a-tonne living-wage premium over global cocoa prices, after global buyers responded by pushing down a separate, "country premium" traditionally paid for West Africa's high quality cocoa.
Ivory Coast's cocoa authorities acknowledge that some intermediaries do not pay the "farmgate" price, set by the government twice a year, but did not respond to a request for an estimate of the scale of the problem.
Nestle and Hershey said they paid the LID premium. Lindt & Sprungli, Ferrero and Mars said paid the LID plus more through their own sustainability programs.
Mars said that "pricing alone isn't the answer" and that "new ways of thinking" were needed to close the living income gaps for farmers. None of the companies responded to questions about eroding the separate country premium after LID's introduction.
LIVING INCOME
Ivory Coast and Ghana introduced the LID scheme with the backing of cocoa and chocolate majors including Hershey, Barry Callebaut and Cargill.
The countries together produce two-thirds of the world's cocoa and trade it through government marketing boards. They hoped the $400 premium would increase their tax intake enough to build up rainy day funds, enabling them to set an official farmgate price sufficient to guarantee farmers a living income even when global prices fell.
But when the COVID pandemic cratered demand, global cocoa prices plunged before they built up a cushion. The two countries were unable to raise the farmgate price to the targeted levels, despite the premium. Since the LID scheme began in 2019, the official farmgate price has only touched Ivory Coast's living income target of 1,000 CFA/kg ($1.66/kg) once - for the main crop of 2020/21, data collected by Reuters showed.
At the same time, major global commodity trading houses began to chip away at the separate country premium, according to the governmental Ivory Coast-Ghana cocoa initiative (CIGCI) that developed the LID.
Eight cocoa traders told Reuters they negotiate down the country premium to avoid steep losses because chocolate-makers are in practice not paying enough to cover both premiums.
An executive at one chocolate major who asked not to be identified in order to speak freely said her company could not commit to paying both premiums. She said the LID scheme needed an overhaul.
Ivory Coast and Ghana say companies should pay both premiums. They deny that LID has structural problems. CIGCI has published data showing the country premium fell 150% to almost zero over the past two years.
"The (LID's) main challenge is that the market sees (it) as an element that disturbs margins," said Alex Assanvo, executive secretary of CIGCI.
Barry Callebaut and other global cocoa traders consulted by Reuters, including Cargill, did not immediately respond to questions about the reduction in the country premium after LID was introduced.
Despite threats in private to publish names of chocolate makers who are not paying the premiums, something they have done in the past, the countries appear wary of too much conflict with their biggest buyers.
Instead, the CIGCI has established a working group on price and markets with industry players that will present recommendations in April, with the goal of finding a lasting "price mechanism solution," Assanvo said.
Nestle, Ferrero, Hershey and Mars said they supported these latest efforts.
A WAY FORWARD?
Ivorian agents who buy beans from growers deep in the countryside say they pay below farmgate prices to cover their expenses, deducting for quality flaws, as well as transport and packing costs.
"The growers accept our price because they have no choice. It's that or nothing and his cocoa will rot with him," said Ali Diarrassouba, a buyer in Daloa, in central Ivory Coast.
Eighteen farmers spread across seven Ivorian cocoa-growing regions told Reuters they were getting 15-20% less than the 825 West African CFA francs a kg ($1.37/kg) farmgate price set for last season.
To protect the farmgate price, Ivory Coast began issuing identity cards last year that track the origin of the cocoa, while allowing direct electronic payments from exporters. Yves Brahima Kone, director general of state regulator the Coffee and Cocoa Council told Reuters 300,000 cards have been issued, reducing the power of intermediaries to demand lower prices.
Farmers "receive exactly the guaranteed price we set. The guaranteed price will be paid directly to them," Kone said.
The new cards won't tackle the long-term problem of surplus cocoa pushing down global prices, however.
Antonie Fountain, director of VOICE Network, a campaigning group seeking fair prices for farmers, said efforts to hold companies accountable were necessary but destined to fail unless cocoa supply was also controlled
"You can't intervene on price and not manage supply, that just doesn't work," Fountain said.
Ivory Coast and Ghana see a risk in planting less because "we see more and more investments in other origins", Assanvo said, adding that supply control was a global question.
Industry data from the International Cocoa Organisation (ICCO) shows cocoa output in Ivory Coast rose to record levels in the 2020/21 season. Global output is expected to be tighter in the current growing season.
Of the roughly 2 million tonnes of cocoa Ivory Coast produces each year, between 20-30% is grown illegally in protected forests by an estimated 1.3 million people, many of them children.
Ivorian farmer Karim Bamba said increasing the area he cultivated was the only way he could make a living.
"Planting cocoa, that's all I know how to do," he said.
Data seen by Reuters from Vivid Economics, a unit of consultancy firm McKinsey that works with Ivorian authorities, shows Ivory Coast's deforestation rate last year was higher than in 2021 and 2020 - the first year LID-enhanced farmer prices came into effect.
© Copyright Thomson Reuters 2023. All rights reserved.