'Abusing Scripture': The Rise Of Kenya's Christian Cults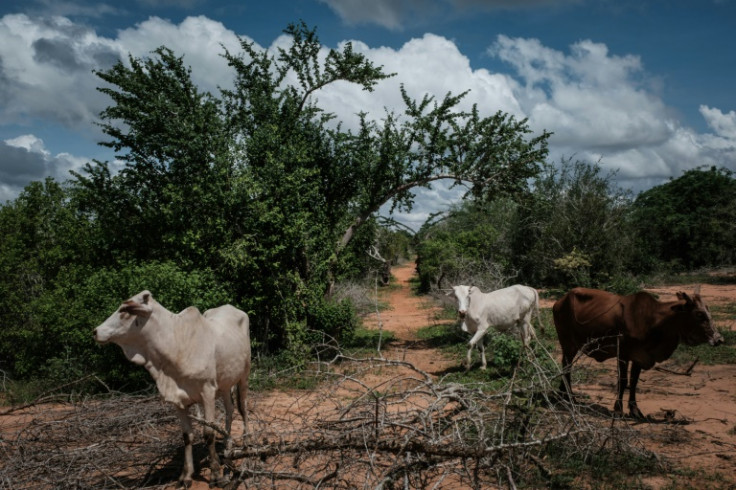 "Jesus told me that the work he gave me had come to an end," said Kenyan self-styled pastor Paul Mackenzie Nthenge, explaining his 2019 decision to close the Good News International Church.
But the notorious televangelist instead led his followers deep into the Shakahola forest near the coastal town of Malindi, allegedly convincing them to starve to death to meet God.
The discovery last week of mass graves topped with crucifixes -- many housing the remains of children apparently starved by their parents -- has shocked Kenya.
Yet the country is no stranger to larger-than-life pastors preaching fire and brimstone sermons and predicting the end of the world, with attempts to regulate religion running into fierce opposition in the largely Christian nation.
There are more than 4,000 churches registered in the East African country of around 50 million people, according to government figures.
Some preach the so-called prosperity gospel, urging members to donate heavily to church coffers in order to improve their own financial fortunes.
Others operate with much darker consequences.
All tend to be dominated by leaders who exercise virtually unlimited control over members' lives, twisting the Bible to promote their authority.
Nthenge's YouTube channel posted flashy videos about "demonic" practices such as wearing wigs and using mobile money to an audience of some 6,000 subscribers.
"Most of these self-styled pastors have never stepped a foot in any theological college", Stephen Akaranga, professor of religion at the University of Nairobi, told AFP.
But the lack of theological education makes little difference to their flock, he acknowledged, adding that in recent years, such churches have mushroomed across rural Kenya, "where people have little information about schooling".
A toxic cocktail of poverty, poor education and easy access to entertaining online sermons have helped these cults thrive in Kenya, to deadly effect.
In 2018, news emerged of a family that lost seven children within four years because their organisation, Kanitha wa Ngai (Church of God), did not believe in using hospitals and modern medicine.
The same year, the Directorate of Criminal Investigations (DCI) warned citizens to watch out for a cult called Young Blud Saints targeting university students.
"Members are expected to sacrifice what they love most to prove loyalty to the organisation," the DCI said in a statement, urging "parents to keep a keen eye on their children to deter them from being recruited to such evil organisations".
But Kenyan cults have managed to evade the law even after repeatedly attracting police attention.
Nthenge himself fell foul of the law in 2017 after he was accused of urging children not to attend school, claiming the Bible did not recognise education.
He was arrested again as recently as last month, after two children starved to death in the custody of their parents.
He denied the allegations and was released on bail, meeting reporters at his Malindi home and even taking them on a tour of his church.
The grisly findings in what has been dubbed the "Shakahola Forest Massacre" case and the mounting death toll -- currently at 90 -- have prompted calls to regulate religion in Kenya.
"The horror that we have seen over the last four days is traumatising," said Hussein Khalid, executive director of the rights group Haki Africa that tipped off police about Nthenge's actions.
"Nothing prepares you for shallow mass graves of children," he told AFP.
President William Ruto has pledged a crackdown on "unacceptable" religious movements, comparing their leaders to terrorists -- a position echoed by Interior Minister Kithure Kindiki.
"What happened here in Shakahola is the turning point of how Kenya handles serious threats to security posed by religious extremists," Kindiki said Tuesday during a visit to the site.
"The purported use of the Bible to kill people, to cause widespread massacre of innocent civilians cannot be tolerated."
Even clerics have flagged the need for regulation.
"These are people who have misinterpreted and are abusing scripture rather than using them the right way," said Calisto Odede, presiding bishop of the Pentecostal denomination, Christ Is The Answer Ministries.
"We need to be able to vet the messages we are hearing from some preachers."
Efforts at regulation will likely run into stiff resistance however, with Odede saying Monday that independent churches have previously rejected suggestions on self-monitoring from the National Council of Churches of Kenya.
Fifteen people, including Nthenge, are in custody over the Shakahola deaths.
The government has threatened to charge Nthenge with terrorism, but academic Akaranga expressed doubts about whether the gruesome saga would lead to a more robust approach to cults.
"So long as you are dancing and making noise, nobody cares."
© Copyright AFP 2023. All rights reserved.